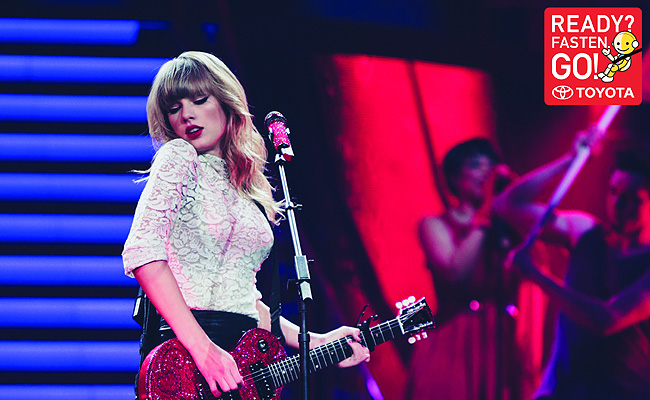 Just in time for Taylor Swift's ASEAN tour (Jakarta, Manila, Bangkok, Kuala Lumpur and Singapore) this June, Toyota has partnered with the popular musician for its first Southeast Asian road safety campaign.
According to Toyota, its research in five Southeast Asian countries--namely, Indonesia, Malaysia, the Philippines, Thailand and Vietnam--shows that only 25% of drivers and passengers wear seatbelts, and that airbags work 15 times better when the seatbelts are worn.
To help spread this important message, Toyota has enlisted Swift's help by advocating the use of seatbelts when riding a vehicle, via a video message that will be shown in her ASEAN concerts "and via online and social media platforms."

"Toyota's road safety campaign will leverage a variety of advertising formats, social media and interactive technologies across Southeast Asia," the carmaker added in a statement. "Each concert venue will feature a Toyota exhibit where fans will have the opportunity to learn more about other safety initiatives by Toyota."
Check out Swift's video message below.
If you're viewing this on a mobile device and can't see the video, please click here.
Continue reading below ↓
Recommended Videos