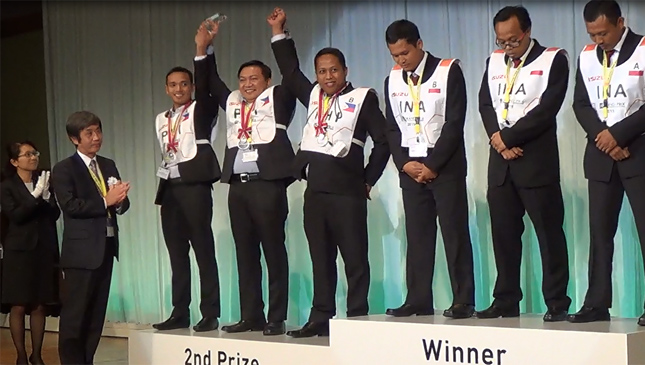 Gilas Pilipinas isn't the only Philippine national team making noise in international competition--even local grease monkeys are proving their worth beyond our borders. A handful of Filipino car technicians and mechanics participated in the Isuzu World Technician Competition in Tokyo, Japan, last month as members of Team Isuzu Philippines. Not surprisingly, they more than impressed.
Team Isuzu Philippines managed to take home first and second places in the competition's Commercial Vehicle Division (Category B) and Light Commercial Vehicle Division, respectively. Ramie Monterola (Isuzu Makati) and Arman Bulahan (Isuzu Davao) won the top prize in the CV-Category B group under the guidance of coach Napoleon Marquez, while Martt Erruze Pugay and Ruben Cerillo Jr. from Isuzu Pasig took home second place in the LCV group under coach Ernesto Corocoto Jr.
Isuzu Philippines Corporation president Hajime Koso says that the strong showing in the international playing field is an indication of the kind of service the company's local arm provides the Philippine automotive industry.
"These mechanics are artists in their own right," the executive said. "I hope that they continue to strive hard to deliver quality service to the Philippine automotive market."
You can bet that competition was stiff, too. The event was participated in by different Isuzu subsidiaries across the globe, each looking to demonstrate skills in a particular service category. The competition was put up with the goal of strengthening Isuzu's quality of service within participating countries.
ADVERTISEMENT - CONTINUE READING BELOW ↓