Here at TG Towers, we love our pets. Probably even more than we love cars, but don't tell anyone that. We love to take them for walks, we love to take them to the office, but most important, we love to take them on road trips. Taking a McLaren 720S to the shops is all very well, but doing it with doggo in the passenger seat? Even better.
It seems Elon Musk agrees with us, as last week, he hit Twitter to reply to some fans asking for a 'dog mode' to be included in future Tesla updates. One suggested some settings that could let aircon stay cool with a 'my owner will be back' display to alert concerned passersby that your pooch is just chilling, having a lovely time in their shiny electric car. The Tesla boss replied with a simple "Yes."
The feature could be not only a comfortable addition but possibly also a life-saving option for your pupper. The Tesla range already has an option to keep aircon running to stop overheating—a forgotten benefit of electric cars.
Another tweeter suggested that the screen could broadcast the internal temperature to show your dog is safe, while the TG office thinks a heated trunk floor (when it's cold, of course) and dog-relaxing radio station would also be welcome additions. Any of these tricks wouldn't necessarily be restricted to dogs—cats, parrots, llamas would all benefit from a comfy cruise mobile.
We hope this will come to fruition, especially as things like the Santa Mode (which lets you follow the satnav with a festive sleigh icon) seem to take pride of place in the marketing gimmickry. Anything to make our trusty companions a little more comfortable can only be a pawsitive. (Sorry.)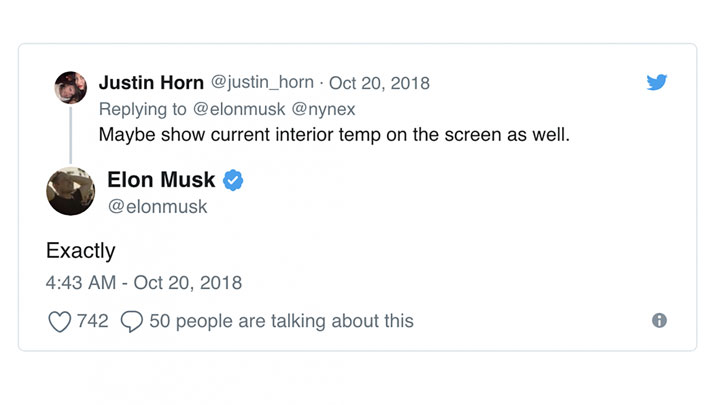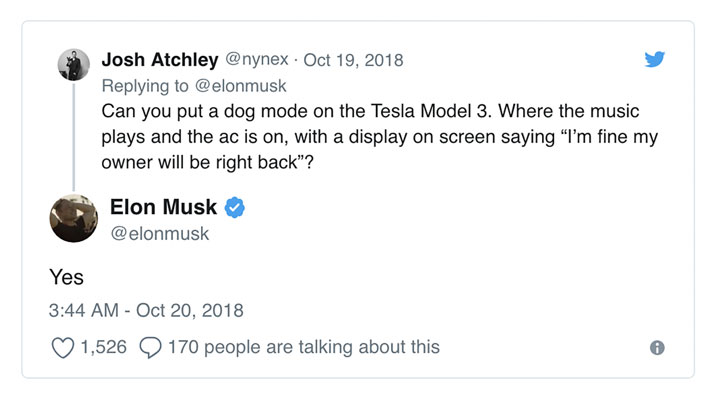 NOTE: This article first appeared on TopGear.com. Minor edits have been made.