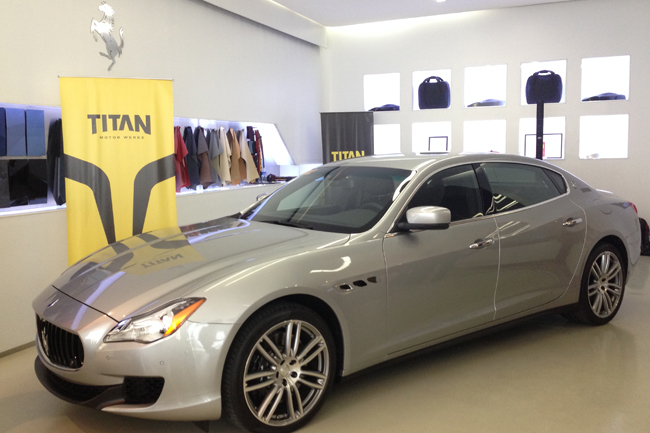 In a simple media launch yesterday at the Autostrada Motore showroom, newly established Titan Motorwerks introduced its pilot products--DuraShield and XPEL Ultimate Paint Protection Film--for car owners who want to protect their automotive investments.
Titan Motorwerks is the brainchild of Simon Heo, Raffy Ocampo and Steven Tagle. The company was formed to provide professional installation and sales of premium paint-protection products. For its two products, DuraShield and XPEL Ultimate, it has trained and certified staff to apply the transparent films in a state-of-the-art facility.
Titan claims the durability and flexibility of XPEL Ultimate film has not been available in the local market until now. With its very low surface energy, XPEL Ultimate sheds contaminants that would otherwise stain or yellow conventional films. Also, the clear coat has special elastomeric polymers that "heal" over time, doing away with swirl marks and other fine scratches, without the owner having to do anything. A 10-year warranty ensures peace of mind against yellowing, cracking, peeling, staining and hazing, covering both film and labor.
The other product, DuraShield, is good protection against small stone chips, insects and other kinds of road debris. DuraShield can be applied to cars, trucks, SUVs, RVs and boats, to protect their value for years. Like XPEL Ultimate, it is practically invisible, so it won't interfere with a car's appearance.
A current-model Maserati Quattroporte was on display during the event, fitted with DuraShield film in various stages of installation. To demonstrate the durability of this film, Tagle, one of the Titan Motorwerks officers, tried to gouge one of the Maserati's exposed "gills" on the side fender several times with a car key. But with the DuraShield protection visibly in place, the film didn't break or scratch.
As with automotive films and foils, the prices vary depending on the size of the vehicle. But for a typical compact sedan like a Toyota Altis, a package for the front bumper, fenders and side mirrors will cost about P45,000. A full wrap of the whole car will cost roughly P150,000, although we agree with Titan that the complete package is a bit excessive--unless it's a really special or expensive car.
If you're a car owner who's particular about his ride, Titan Motorwerks' products deserve thorough consideration.
Titan Motorwerks is located at 2293 Don Chino Roces Avenue, Barangay Magallanes, Makati City. You may check out its website at www.titanmotorwerks.com.
Photos by Dinzo Tabamo