Below are the industry-wide sales numbers for March 2014, compiled from the reports of the Chamber of Automotive Manufacturers of the Philippines and the Association of Vehicle Importers and Distributors. Also included are the figures from the same month last year for comparative purposes, as well as the year-to-date figures so far.
But first, here are the winners and the losers relative to March 2013 numbers, ranked according to the percentage points of difference:
WINNERS (above +5%)
Chevrolet +152.9%
Kia +87.2%
Mini +38.5%
Toyota +38.2%
Ford +33.9%
BMW +33.3%
Suzuki +24.9%
Mitsubishi +20.3%
Mazda +19.8%
Subaru +15.7%
Isuzu +13.7%
Lexus +10%
Chrysler/Dodge/Jeep +8.6%
LOSERS (below -5%)
Honda -5.5%
Hyundai -12.8%
Nissan -16.3%
Volvo -16.7%
PGA Cars -27.3%
Mercedes-Benz -34.2%
NEWCOMER
Peugeot
NOTE: Mercedes-Benz's huge drop from the same month last year is sort of deceiving, as the brand registered an unusually large figure of 76 units in March 2013. In March this year, the German brand sold 50 units, which is actually quite high for a luxury marque.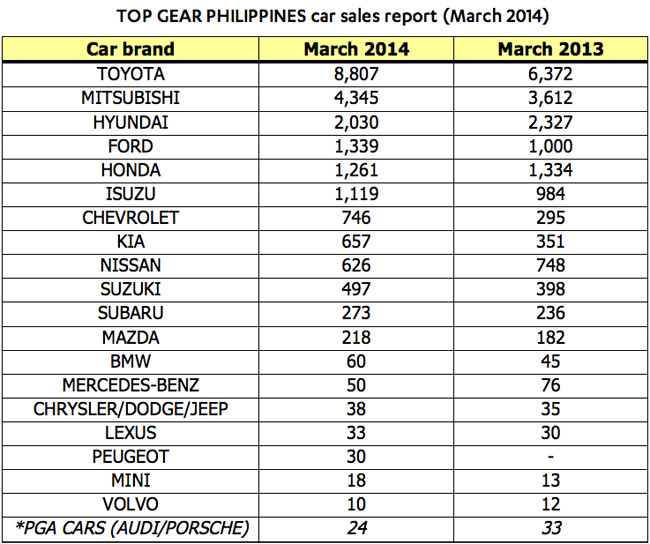 Continue reading below ↓
Recommended Videos