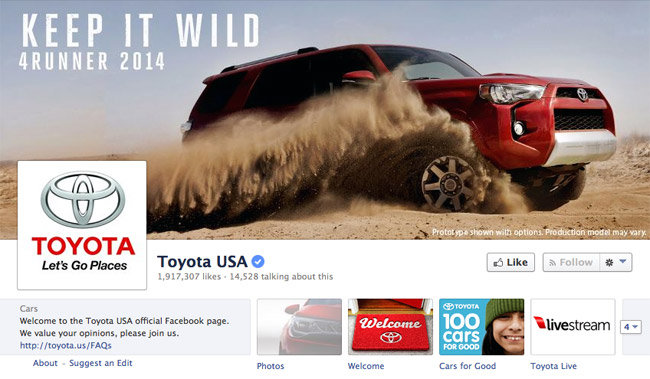 These days, virtually no business can survive without any social media presence, and that can't be any truer than in the automotive industry. Today, practically all car companies have one or more social media channels, including Facebook, Twitter and Instagram. It's one of the most effective ways to engage customers nowadays, most of whom are constantly connected to their mobile gadgets.
And social media presence isn't just a fad anymore--it can actually help carmakers sell more vehicles as well as serve their customers better, according to the JD Power Social Media Benchmark Study. The study aims to show "the critical role that social media plays in driving consumer purchase and service decisions across all generational groups in the automotive marketplace."
This year, Toyota ranks first among car brands in the US, getting a score of 845. The Japanese carmaker is closely followed by Ford with a score of 842 and then by Chevrolet with 838. The average industry score is 824.
ADVERTISEMENT - CONTINUE READING BELOW ↓
The 2014 study is based on responses from more than 9,800 US online consumers "who have interacted with a company via that company's social media channel." The study is said to have been fielded from November 18, 2013, through February 9, 2014.
ADVERTISEMENT - CONTINUE READING BELOW ↓
Recommended Videos
Among the interesting findings in the study are the following:
* One-fifth (or 20%) of consumers use social media as their primary source of information about car brands;
* Nearly one-third (or 29%) of social media users get recommendations about a product or service from friends and family exclusively through social media;
* The most frequently used social-media marketing channel is Facebook (29%), followed by YouTube (19%) and Twitter (11%). The most frequently used social-media servicing channel, meanwhile, is Facebook (84%), followed by Twitter (34%) and YouTube (25%).
Check out the complete rankings of automotive brands in the 2014 JD Power Social Media Benchmark Study for the US market.
ADVERTISEMENT - CONTINUE READING BELOW ↓