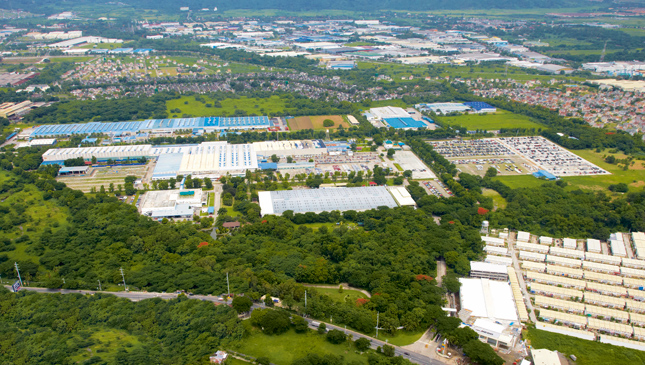 On Tuesday, we reported that President Aquino had finally signed the implementation of the Comprehensive Automotive Resurgence Strategy, a government program meant to spur the growth of car manufacturing in the country. The government plans to achieve this by providing incentives to car manufacturers as well as makers and suppliers of car parts.
We noted that the program is positioned to mostly benefit Japanese car companies, particularly those that still have assembly plants in the country. True enough, Toyota Motor Philippines is the first to send us a press statement lauding the development. Below is the carmaker's comment on CARS, in italics:
The new Executive Order (EO) 182 entitled "Providing for a Comprehensive Automotive Resurgence Strategy (CARS) program" recently signed by President Benigno Aquino III was warmly received by Toyota Motor Philippines Corporation (TMP). Toyota welcomes the EO with much optimism as it further allows the continuity and increase in contributions to the Philippine economy of the auto industry through local manufacturing.
ADVERTISEMENT - CONTINUE READING BELOW ↓
The much-awaited CARS program is expected to facilitate the expansion of local manufacturing capabilities and improve cost competitiveness of industry players, setting the stage for regional integration.
With EO 182, Toyota sees a clearer direction from the government. As TMP president Michinobu Sugata expressed: "I am grateful to the Philippine government for giving the local auto manufacturing industry a chance to flourish and further contribute to the economy through the CARS program."
Toyota's business in the Philippines has been proven to have a major effect on industry linkage. With the CARS program, Toyota's business growth is expected to further trigger investment opportunities from its supplier network and other auto manufacturing-related activities.
The CARS program is a result of the Industry Roadmapping Project (IRP) launched by the Department of Trade and Industry and the Board of Investments in January 2012.
We have yet to hear from other auto companies regarding CARS. We'll know in the coming days what the others think of it. As for us, while we can sniff politics in this development from a mile away, we like the prospect of more jobs to be generated by a more robust car-manufacturing industry. We just hope that the Aquino administration didn't announce this just to beat a deadline for his next (and last) State of the Nation Address.
ADVERTISEMENT - CONTINUE READING BELOW ↓
Recommended Videos
Let's not kid ourselves: CARS is still a long way from actually becoming a reality. For one, the implementing rules and regulations have yet to be laid down. And then there's the matter of a new President taking over Malacañang in a year's time. Let's hope the government is 100% committed to this. It has six years to prove it is.