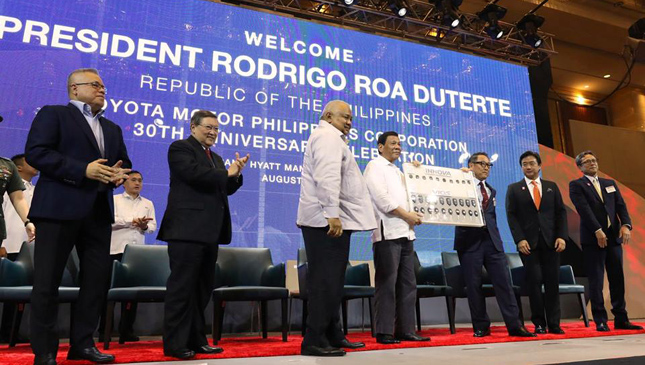 Toyota Motor Philippines (TMP) has donated 20 units of the all-new Vios, 10 units of the Innova, and three units of Hiace to the Philippine government in celebration of the Japanese carmaker's 30th anniversary in the country.
The keys to the abovementioned vehicles were handed over personally to President Rodrigo Duterte--the anniversary celebration's guest of honor--by Toyota's global head Akio Toyoda, TMP president Satoru Suzuki and TMP vice chairman Alfred Ty.
Yes, Akio Toyoda himself handed over the keys to our President. With a guest list like that, you know this ceremony was a very, very big deal. As it should be, considering the Philippine market is ranked ninth in Toyota's global sales.
Continue reading below ↓
Recommended Videos
As Alfred Ty put it during his speech, Toyota has become more than just another car brand to Filipino motorists over its three decades in the Philippines--it has become part of our everyday lives: "It was a result of years of passion, discipline and creating a culture to cultivate quality, and the commitment to achieve the 'always better' in everything we do."
In his speech, Akio Toyoda recalled how the brand once had to pull out of the market, calling it a "very trying and sad experience for Toyota." He added, however, that this would never happen again: "Once we left, but we are here now, never again to stop our business. That is our promise to the Filipino people."
And it doesn't look like there'll be any stopping Toyota in the foreseeable future. The manufacturer ended 2017 with a whopping 184,000 units in sales, and looks to build on its continued success with new releases like the Vios and Rush. Do you think any carmaker will ever be able to take Toyota's place as the local king of cars?