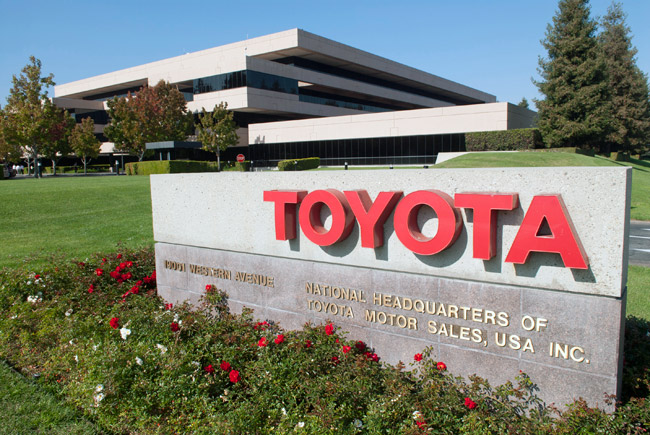 Japanese carmaker Toyota has announced that it is moving its United States headquarters to a new, consolidated base in North Dallas, Texas, from its current three separate offices. At present, the auto company has presence in Torrance, California (Toyota Motor Sales USA), with about 2,000 employees; Erlanger, Kentucky (Toyota Motor Engineering and Manufacturing North America), with about 1,000 employees; and New York, New York (Toyota Motor North America), with a smaller number of employees.
In a statement, Toyota said that the move is designed to enable it to better serve customers and pave the way for sustainable, long-term growth.
"Within the next three years, Toyota's three separate North American headquarters for manufacturing, sales and marketing, and corporate operations will relocate to a single, state-of-the-art campus in Plano," announced the press statement. "Toyota's North American finance arm also plans to move its headquarters to this new shared campus. Altogether, these moves will affect approximately 4,000 employees."
The move will "begin with initial small groups this summer." The majority of the workforce, however, will complete the transfer in "late 2016 or early 2017." Toyota Financial Services, meanwhile, is expected to move no earlier than 2017, affecting around 1,000 employees.
The big move also includes Lexus, Toyota's luxury brand.
Continue reading below ↓
Recommended Videos
"With our major North American business affiliates and leaders together in one location for the first time, we will be better equipped to speed decision-making, share best practices, and leverage the combined strength of our employees," declared Jim Lentz, who was named Toyota's first chief executive officer for the North American region in 2013. "This, in turn, will strengthen our ability to put customers first and to continue making great products that exceed their expectations. Ultimately, enabling greater collaboration and efficiencies across Toyota will help us become a more dynamic, innovative and successful organization in North America. This is the most significant change we've made to our North American operations in the past 50 years, and we are excited for what the future holds."