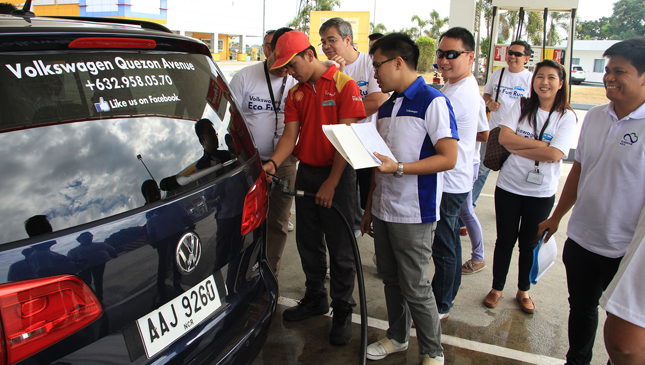 Another leg of the Volkswagen Eco Fun Run was held last month, and this time the German carmaker lent out three models--the Polo, the Touran and the Tiguan--for the participants to drive. The destination was Abe's Farm in Magalang, Pampanga, covering an estimated 145km of mixed highway, city and provincial driving roads.
Team Top Gear Philippines consisted of print managing editor Stephanie Maureen Asi as driver, and yours truly as navigator. We were assigned a Touran 2.0 TDI DSG. All nine participating cars were topped off at Shell Balintawak for the flag-off. We were not allowed to shake the car (this settles the fuel, allowing more liquid to be put in). Stickers were placed on the fuel-tank lid and on the A/C controls to prevent tampering.
For the first part of the run, we did a quick Google search on the best average speed to get optimum fuel economy, and decided that 60kph should get the job done. So, with only bearable temperature in the car and modest speed on NLEX, what was supposed to be a one-hour drive got stretched to two hours. The jeepneys and the pedestrians in Pampanga weren't helping any.
During lunch, one of the marshals asked how we did. Upon learning that we did 60kph, he advised us to increase our speed to 100kph instead since we had a diesel unit. This left us fumbling to confirm this theory with anyone back at the Top Gear office. Our copy editor/writer Sharleen Banzon did some quick research of her own and told us to do 100kph, and make sure that the rpm didn't fall below 1,750 or rise above 2,750 as this would strain the car and burn more fuel. Trusting her, we overtook most of the Volkswagen units on the highway. We were the first team to arrive at the Shell of Asia station for the final fuel refill.
Continue reading below ↓
Recommended Videos
In the end, we managed to get 20.57km/L. Not a bad figure if you ask us. But the winning Touran team beat us by doing 22.85km/L.
For the Polo, the winning team team did 26.54km/L, while the Tiguan winner got 17.86km/L.
Volkswagen sought the help of Clean Air Asia in verifying the fuel-economy results.
Although we did not win, it was a lesson learned in green motoring. At least we didn't get lost (which everyone expected), or produce the worst mileage (which everyone predicted).
Check out Volkswagen's diesel-powered vehicles, and see the eco-friendly difference for yourself.