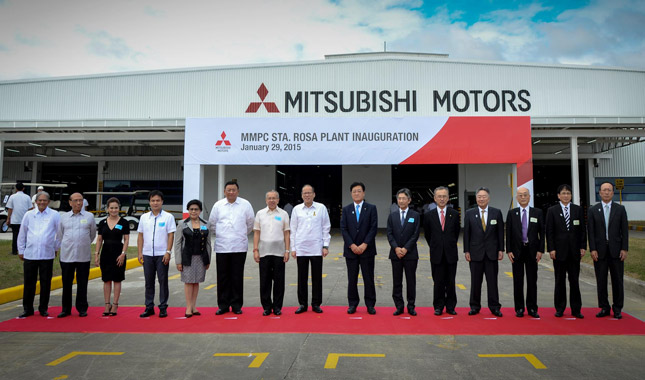 Apparently, the hashtag #NasaanAngPangulo (#WhereIsThePresident) is burning the Internet right now, referring, of course, to President Noynoy Aquino's absence at yesterday's arrival honors for the slain members of the Philippine National Police's Special Action Force, who were killed in a clash with rebel groups in Mamasapano, Maguindanao, on January 25.
Technically speaking, the answer to the hashtag question is this: The President attended the official inauguration of Mitsubishi Motors Philippines' new manufacturing facility in Santa Rosa, Laguna, which had been acquired by the Japanese automaker from Ford Philippines about a year ago. As a result, Mitsubishi has been caught in a PR crossfire--which has dampened an otherwise successful event in the company's history.
Here's the full script of the speech the President delivered at the event:
While viewing the classic models of Mitsubishi earlier, of course I also had my share of memories, and a realization that really Greg Domingo and Rene Almendras are classic cars, in that they either drove or owned all of these first-generation models of Mitsubishi.
In 1964, Mitsubishi Motors Philippines Corporation began its operations in Cainta, Rizal. Since that time, over 50 years have passed, making MMPC the longest-staying automotive company in the Philippines. As if this were not an achievement enough, it is worth noting that your growth was hard-won through some of the most tumultuous periods in our history. Mitsubishi Philippines found a way to stand by its commitment to the Filipino people and to continue growing through the long years of the dictatorship and the coups that threatened instability during my mother's presidency.
Continue reading below ↓
Recommended Videos
That is why I made it a point to be here today: to recognize the depth of the partnership you have forged with my countrymen, a partnership that has already led to much success. For instance, as [Mitsubishi Motors Corporation chairman and CEO] Mr. Osamu Masuko mentioned earlier, you were the first automobile manufacturer to reach 500,000 units of cumulative production in the Philippines. I am also told that, in 2014, MMPC had the second-largest market share, with more than 50,000 units sold, due in large part to your commitment to customer care and satisfaction. This means that in the past year alone, more than 50,000 of your vehicles have played significant roles in the lives of Filipinos: representing the first large investments of young professionals, or acting as the vehicles that have carried them to work, that have carried their families to vacations, and that have ultimately carried them through their lives.
This Santa Rosa plant represents the beginning of a new chapter in our shared history. Completed just last month, the plant has a production capacity of up to 50,000 units per year, and is expected to employ up to 1,150 individuals over the next six years. It will be crucial in helping you achieve your goal of reaching 100,000 units in sales annually by 2020. Without sounding too presumptuous, let me express how much I look forward to hearing about further expansions and Mitsubishi plant inaugurations in the future. By that time, I will probably no longer be invited to events like these as President, but rest assured I will still cheer you on as a private citizen.
All jokes aside, the goals that Mitsubishi Philippines has set for itself speaks strongly of your optimism for our country's prospects. Economic growth has been strong and resilient these past few years, even with the calamities that our country has had to endure. Even better: While remittances from Filipinos abroad still play a role in boosting the economy, our growth is increasingly becoming driven by industry. The strong performance of other sectors likewise aids in creating new markets: For instance, there is supposed to be a very specific market for automobile sales to employees in the business process outsourcing industry.
In all your plans, you have demonstrated not only a confidence in the market, but also in the capacity of the Filipino people to become strong and able partners in building your business. The length of your stay here has shown you exactly how talented, how service-oriented, and how loyal the Filipino worker is. In fact, I am told that some of Mitsubishi Motors Philippines' personnel, at least in your Cainta plant, are already second-generation employees.
This partnership is embodied in initiatives such as the Kasanayan at Hanapbuhay Program, which, in English, means a skills training and livelihood program. By working together, MMPC, the Mitsubishi Motors Workers Union-Philippines, our Department of Labor and Employment, and our Technical Education and Skills Development Authority have been able to provide valuable work experience to beneficiaries. In 2014, there were 70 graduates from this program, a small number of which were absorbed into your corporation as regular employees. We are hopeful that even larger numbers will follow in the future.
Rest assured that, in all other aspects, government will continue to do its part to fulfill your goals. To stimulate the Philippine automotive industry, our government has likewise continued to provide incentives in the form of income tax holidays and reduced taxes and duties, among others. This, together with other endeavors, seeks to formalize our drive and our approach to encourage more investments into automotive assembly and parts manufacturing, in order to move the Philippines up the value chain and create even more opportunities for Filipinos.
But perhaps I am already preaching to the choir, because in this sense, Mitsubishi Motors Philippines is already ahead of the pack, as you have been for so long. All those years ago, you came to the Philippines because you saw its potential. Everything you have achieved since then only strengthens my optimism that your next 50 years here will be even more productive and meaningful, not only for your bottom line, but also for your employees, your clients, and the entire Philippine economy. Today's inauguration is an excellent start, and I am excited to witness the milestones yet to come.
Congratulations to all of you. Thank you, and good day.
Photos by Mikko David and Jama Ramos