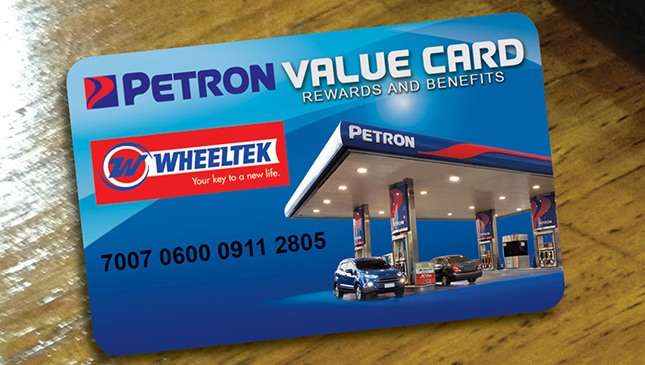 Based on estimates, the average time consumed by a rider when refueling his motorcycle lasts at least 10 minutes; from putting up the bike stand, removing the gloves, pulling out his wallet, counting the bills, waiting until he gets his change, and finally, restarting the engine. When traffic is at its worst, 10 minutes could mean a lot to motorists.
In partnership with market leader Petron, Wheeltek Motor Sales Corporation has come up with a formula to lessen the time consumed by fuel refilling for motorcycles, and make their everyday travel faster and more efficient.
Considered one of the country's biggest motorcycle dealers, Wheeltek is offering a Petron Value Card (PVC) to buyers of new motorcycles from any of their 200 branches nationwide. This multi-brand dealership, which was founded in 1974, sells motorcycle brands of Yamaha, Kawasaki, Suzuki, TVS and KTM. Under the joint project, Wheeltek will accord its customers additional benefits through the co-branded Wheeltek-PVC.
ADVERTISEMENT - CONTINUE READING BELOW ↓
Wheeltek-PVC cardholders will earn bonus points on top of the regular points earnings of the PVC. Purchases between P50 and P99 will rake three bonus points; for P100 –P149, six bonus points; and for P149 – P300, eight bonus points.
This is in addition to the regular reward of one value point for every P250 fuel purchase, and five value points for every P100 worth of engine oil purchase.
Because it doubles as a fuel card, owning a Wheeltek-PVC also spares the rider from bringing huge amounts of cash.
Aside from these, more points await Wheeltek customers through the Frequent Visit promo, where the PVC cardholder gets additional points on every fifth visit to a Petron station, and the Birthday Promo that awards bonus points when a Grab driver gasses up within five days of his birthday. Peso points earned on the Wheeltek-PVC can be redeemed for Petron products at over 2,000 Petron stations nationwide.
These earned points can also be converted to cellular load, air miles, groceries, movies, and other options.
Petron takes care of its loyal customers, and Wheeltek-PVC cardholders can enjoy the following benefits through their Petron Value Card: free personal accident insurance coverage of P10,000 for accidental death, P1,000 medical reimbursement, and privileges at partner establishments. However, these benefits are subject to certain conditions.
The Petron Value Card mobile app for iOS and Android smartphones provides the transaction history and points summary, as well as access to the various promos, benefits and privileges. As of now there are more than four million active Petron Value Card holders nationwide.
ADVERTISEMENT - CONTINUE READING BELOW ↓
Recommended Videos
Prospective buyers of motorcycles, can you find a better deal than this?