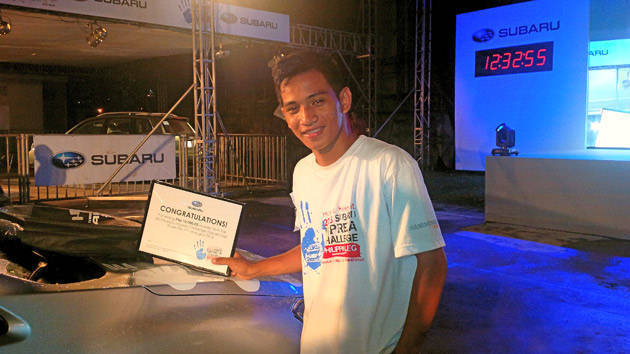 Beating the Cebu leg winner's time by more than two hours, the winner of the first Subaru Impreza Challenge Davao leg clocked in a winning time of 12 hours, 32 minutes and 55 seconds. Albert Saguillo, a 20-year-old part-time student, outlasted 100 other Davaoeños on August 17. He was awarded a P10,000 cash prize and an all-expense paid trip to Singapore to compete in the regional final of the Subaru Impreza Challenge. The winner of the regional final in Singapore will take home a brand-new Impreza sedan.
A maintenance worker at a boutique hotel and a student of an automotive course at the Mindanao Master Technical Training Center, Albert not only kept his hand firmly on the XV, but also survived the four challenges that were thrown at the contestants. No one would have guessed that the winner who outlasted 100 others had not slept a wink prior to the challenge.
"I was on night-shift duty at work on Friday," Albert told TopGear.com.ph. "I reported for work from 10pm to 7am, then I headed here at Abreeza for the 9am contest." Knowing that it would be a test of endurance, he took multivitamins on Saturday morning. Albert said he was feeling well after the competition because he had three meals that day, thanks to the refreshments offered during the scheduled breaks.
Continue reading below ↓
Recommended Videos
Among those who joined Albert in the latter and crucial stages of the contest were:
* Jed Chiu - An electrical engineer by profession, this 25-year-old signed up to try the endurance contest. He just wanted to experience the challenge.
* Lito Belarmino - This 22-year-old auto detailer at Subaru admitted that he joined the contest to win a slot in the regional final and for the cash prize of P10,000.
* Raul Iba - A 20-year-old student taking up Marine Transportation, he joined the contest with hopes of outlasting everyone else to receive the cash prize, so he could pay his tuition and other school fees.
* Ruel Mabaza - At 21, he is a maintenance employee at an agency. "Kailangan ng pera," was his reply when asked why he joined the competition.
* Kevin Cabante - The youngest in this group, the 18-year-old is an Electrical Engineering student. He and his friends signed up; he was the last one standing among his friends.
* Claire Cubelo - One of the two ladies in this last batch, 19-year-old Claire is also a Marine Transportation student who signed up "practically for the money."
* Careen Basas - The 29-year-old lass is a Subaru dealership employee. When she found out that the contest was open to Subaru employees, she joined with the goal of being Davao's representative in Singapore.
* Benjie Mariquit - A 19-year-old student taking up an automotive course, he signed up just because he wanted to visit Singapore.
* Victor Escamillan - Part-time tricycle driver and part-time student, 25-year-old Victor entered the contest with the cash prize as his primary motivation. He said he could use the cash prize to pay for school fees.
Too bad Albert Saguillo outlasted them all.
Albert will join Subaru Impreza Challenge Cebu leg winner Joberth Estrera, the winner from the Pampanga leg (August 24), and seven winners from the Manila leg (September 7) in the final round.
Photos by Tracy Carpena