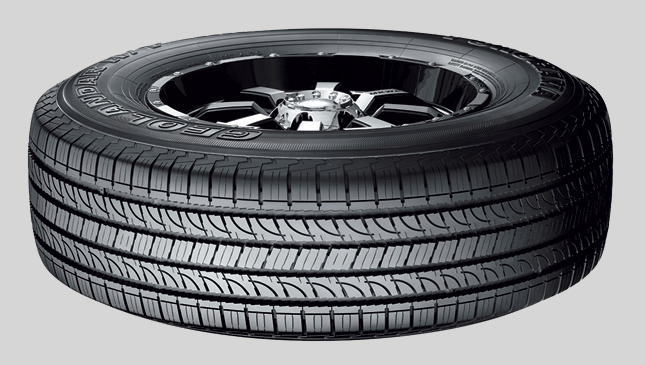 If your New Year's motoring resolution happens to be to finally replace those old, worn-down tires on your personal ride, then you're in luck (especially if you happen to drive an SUV or a pickup truck.
Yokohama Philippines has released a new set of SUV and pickup tires to replace the company's widely successful G051 model. The Geolandar H/T-S G056 is now out, and it's said to be more fuel-friendly, significantly longer-lasting and quieter. And it supposedly offers better braking distance than its predecessor.
To be specific, the G056's noise level has been reduced by 13% compared to the previous model, and it also offers 21% more tire life and 4% better rolling distance. Wet braking distance has seen a 3% improvement, while dry braking distance is now up by 13%. The tires are available in 15- to 18-inch sizes.
The Geolandar G056 completes the Japanese tiremaker's lineup of BluEarth series tires, which aims to be more eco-friendly as well as more fuel-efficient than previous models. Below are the available G056 tires, their sizes and their prices.
* 215/80 R15 (102S) - P5,120
* 255/70 R15 (108H) - P6,240
* 265/70 R15 (112H) - P6,400
* 245/70 R16 (111H) - P6,400
* 255/65 R16 (109H) - P6,792
* 255/70 R16 (111H) - P6,720
* 265/70 R16 (112H) - P7,040
* 265/75 R16 (116H) - P7,680
* 275/70 R16 (114H) - P7,360
* P255/65 R17 (108T) - P8,480
* P265/65 R17 (110T) - P8,800
* 275/65 R17 (115H) - P8,960
* 285/65 R17 (116H) - P9,600
* P265/60 R18 (109H) - P10,560
* 255/60 R18 (112V) - P10,400
ADVERTISEMENT - CONTINUE READING BELOW ↓
* 285/60 R18 (116H) - P11,168
ADVERTISEMENT - CONTINUE READING BELOW ↓
Recommended Videos