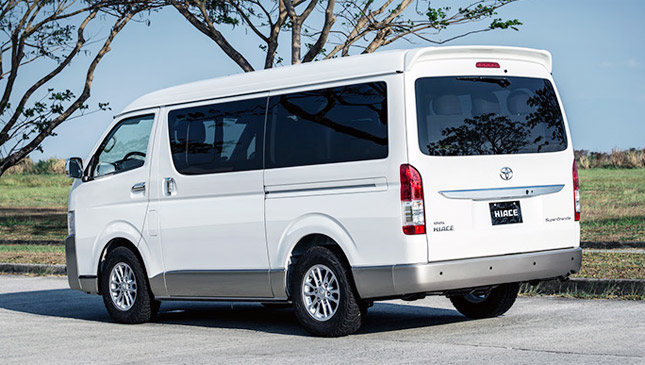 So you won't think that your money is simply being pilfered by corrupt politicians to fund their obscene lifestyle, the government has released this extremely exciting announcement: It has turned over 55 brand-new Toyota Hiace vans to the Philippine National Police. Now, the above photo is merely for visual reference; we're sure the actual units are stripped bare to keep the pricing down.
The government also made sure to point out in the announcement that DILG boss Mar Roxas personally handed these vans to the PNP, perhaps to give you a subliminal reminder come Election Day 2016. This whole thing happened, apparently, because our police have this so-called "capability enhancement program." In particular, the PNP's Crime Laboratory Group will be the main recipient of these new vans.
The announcement added that "these vehicles are expected to provide substantial police presence, general transport capability, and other emergency response capabilities to the 150,000-strong police force all over the country." Okay, we don't claim to be math experts, but we're sure 55 vans won't give you "substantial presence" in a country with a population of more than 100 million people. Still, that's so much better than nothing at all (nothing meaning European holiday funds for venal congressmen).
ADVERTISEMENT - CONTINUE READING BELOW ↓
ADVERTISEMENT - CONTINUE READING BELOW ↓
Recommended Videos
Other PNP divisions that will benefit from this are the Anti-Kidnapping Group, the Anti-Cybercrime Group, the Aviation Security Group, the Criminal Investigation and Detection Group, the Police Community Relations Group, the Directorate for Police Community Relation, the Public Information Office, and the Logistics Support Service.
Another important development revealed during the turnover ceremony: "The procurement of 1,470 patrol jeeps is already at its post-qualification stage. Around P1.4 billion was allotted for the purchase of single-cab patrol jeeps, which will be distributed to all municipalities in the country."
Roxas is said to have pointed out three purposes for these patrol jeeps: "fighting crime, medical evacuations, and disaster response."
So, you see, your money isn't all going to waste. If you're lucky, you might even catch a glimpse of it rolling down EDSA.