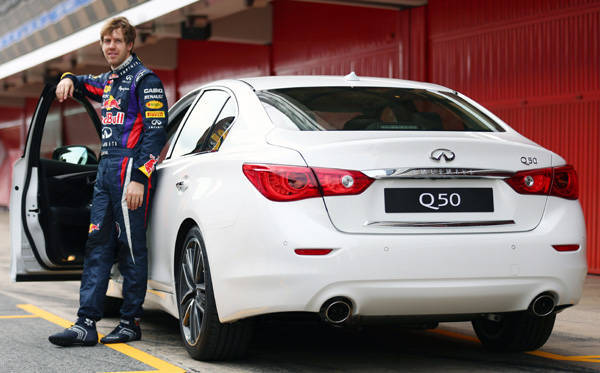 If we're being honest, we'd say Infiniti is one of the blandest car brands on the planet. Nissan's luxury division probably knows this, too, which is why it has appointed Red Bull Racing driver and triple Formula 1 champion Sebastian Vettel--yes, that self-centered jerk who will seize the trophy no matter what--its "director of performance." This was announced by the Japanese car company on opening day of the New York International Auto Show.
"In this capacity, Vettel plays a crucial role in developing our vehicle lineup, starting with the exclusive Infiniti FX Vettel Edition and most recently with the all-new Q50," Infiniti said in a press statement.
Infiniti president Johan de Nysschen added: "Sebastian's talent and ability behind the wheel is unquestionable, and his role in developing Infiniti vehicles has already proven invaluable. How many premium automotive brands can honestly say its vehicles have been developed alongside a triple world champion?"
According to Infiniti, "Vettel has been central to the development of the new Q50 from its early stages, and that he spent time with Infiniti engineers in Japan, providing them with his world-class chassis dynamics, performance and handling feedback."
And what does the win-at-all-costs driver have to say about his new role?
"I am really happy to extend my relationship with Infiniti and become their director of performance," Vettel said. "Helping to develop the Q50 was a very different type of driving duty for me, but I approached it in exactly the same way as I do my Formula 1 car. I am looking forward to working closely with Infiniti in developing more of their road cars in the future."
Let's just hope Infiniti engineers won't take lessons about teamwork from the German driver.