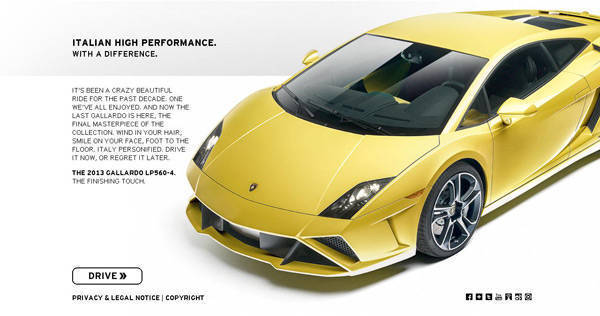 In production since 2003, the Lamborghini Gallardo is turning 10 years old next year, which is double the lifespan of most regular cars. Does that mean the Italian carmaker has another supercar waiting in the wings? Apparently so, but Lamborghini wouldn't admit it. Fortunately, our computer system's cache managed to save Lamborghini's admission of the demise of the Gallardo before it revised its website.
Last week, Lamborghini came out with a website called TheFinalGallardo.com where it celebrated the model's longevity and admitted that "the last Gallardo is here, the final masterpiece of the collection."
We checked the site today and apparently, after you type in "thefinalgallardo.com," you're automatically redirected to a site called TheGallardo.com. As for Lamborghini's previous statement of "the last Gallardo," it has since been replaced by "the latest Gallardo is here, the new masterpiece of the collection."
So, either it was a simple case of typographical error and somebody from Lamborghini wrongly adding a couple of letters to a word and jumbling them to come up with an entirely different word with a whole new meaning, or an all-too-obvious case of somebody being too eager to reveal something they shouldn't have in the first place.
What do you think?
Continue reading below ↓
Recommended Videos