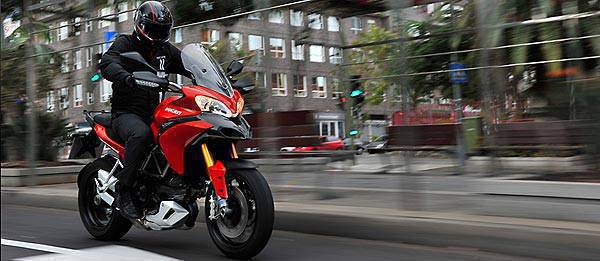 The Ducati Multistrada 1200 from Italy--which boasts a four-bike combination in one innovative package--has arrived in the Philippine market.
At just the push of a button, the Ducati Multistrada 1200 easily switches riding modes from Sport, Touring, Urban and Enduro to give riders an enjoyable experience as the bike adjusts to suit different terrains.
Labeled as a "game-changing" motorcycle, the Multistrada 1200's 150hp power delivery changes not just by engine mapping but by throttle adjustments. The suspension settings and traction controls are also electronically adjusted, transforming the Multistrada 1200's performance to the rider's needs.
In Sport mode, the Multistrada 1200 delivers power just like the sportbikes Ducati is known for--with sports-oriented throttle response. The Ducati Traction Control (DTC) is also adjusted closer to the limit to suit expert riders. In Touring mode, power delivery is smoother and more user-friendly as the DTC's intervention level is increased to suit the relaxing ride. Cruising in Urban mode makes the Multistrada 1200 even more user-friendly as power output is adjusted to produce just 100hp and the DTC is enhanced further to suit the city's start-stop traffic. If a rider decides to take things off-road, the Multistrada 1200 feels right at home in its Enduro mode as power delivery is also limited at 100hp as the DTC is adjusted to intervene less while the anti-lock brake system can be completely disabled.
ADVERTISEMENT - CONTINUE READING BELOW ↓
ADVERTISEMENT - CONTINUE READING BELOW ↓
Recommended Videos
"The 2010 Ducati Multistrada 1200 presents an unprecedented use of the latest technology allowing distinct riding characteristics suitable for practically all the types of roads in the Philippines," said Access Plus president Toti Alberto. Access Plus is the authorized distributor of Ducati in the Philippines.
The Ducati Multistrada 1200 and other Ducati motorcycles are available at Access Plus at 102 P. Tuazon Street, Cubao, Quezon City.