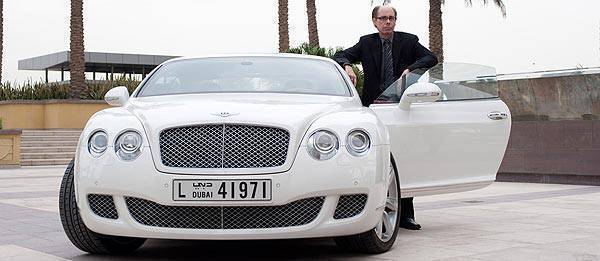 The spy with the license to kill is back, but this time he won't be driving an Aston Martin. James Bond will be behind the wheel of a Bentley Continental GT in the new book Carte Blanche.
Written by international best-selling author Jeffery Deaver, Carte Blanche is partly set in Dubai. Although Bond's new car is better suited in understated tones for a secret agent, the author was spotted outside the InterContinental Hotel in Dubai Festival City in a white one with a blood-red leather interior.
As for the book's title, Deaver explained its origin.
"In the world of espionage, giving an agent carte blanche on a mission comes with an enormous amount of trust and constantly tests both personal and professional judgment. Part of the nonstop suspense in the novel is the looming question of what is acceptable in matters of national and international security. Are there lines that even James Bond should not cross?," Deaver asked.
ADVERTISEMENT - CONTINUE READING BELOW ↓
While in the movies, James Bond is frequently associated with Aston Martin, in Bond creator Ian Fleming's original novels, the gentleman spy opted for a Bentley which, incidentally, also was Fleming's choice of transport.
Carte Blanche is expected to go on sale on May 26, a few days before the anniversary of Fleming's birthday.
ADVERTISEMENT - CONTINUE READING BELOW ↓
Recommended Videos