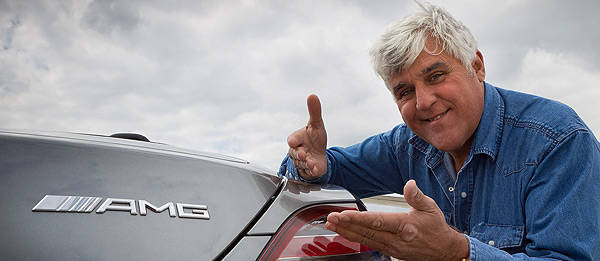 Celebrity gearhead and renowned car collector Jay Leno recently visited AMG's headquarters in Affalterbach, Germany, where he not only sampled some of the products of Mercedes-Benz's high-performance luxury car specialist but also assembled by hand one of its V8 engines.
Shortly after Leno got off the plane at the Stuttgart airport, the famous American talk-show host was given a brief familiarization of the Mercedes-Benz SLS AMG Roadster before he drove it on the highway and on country roads. Subsequent test drives on Daimler AG's test track in Stuttgart-Untertürkheim gave Leno the opportunity to not only enjoy the SLS AMG Roadster but the SLS AMG E-CELL as well.
"The SLS AMG Roadster delivers top performance. Whether the engine, transmission, handling or brakes--you feel that the engineers at AMG are serious," Leno said of the open-top convertible.
For the SLS AMG E-CELL, he had nothing but superlatives to say of his experience behind the wheel.
ADVERTISEMENT - CONTINUE READING BELOW ↓
"The power delivery from standstill is fantastic. It's unbelievable how the 392 kW and 880Nm catapult the gullwing down the track. Very impressive, especially because you hear nothing except a little wind and tire noise. And thanks to four-wheel drive, the SLS AMG E-CELL has no problem in bringing its enormous power onto the road. The performance and handling are every bit the equal of the SLS AMG with the V8 engine," Leno said. "This is the future."
The talk show host capped his one-day tour by helping two technicians assemble a 6.3-liter V8 AMG engine by hand, with Leno installing the crankshaft, cylinder heads and even the wiring himself. After the engine passed the subsequent quality tests, Leno applied an AMG engine plate bearing his signature to the completed powerplant and then watched as "his" engine was extensively tested on the glass-walled test bench.
"I am very pleased that such a passionate automobile fan as Jay Leno has found his way to AMG and Affalterbach. We are quite sure that during his test drives with the SLS AMG Roadster and the SLS AMG E-CELL, we were well able to deliver on our brand claim of 'Driving Performance.' And Jay Leno also cut a fine figure as an M159 assembly technician in our engine shop," said Ola Källenius, chairman of Mercedes-AMG GmbH management board.
ADVERTISEMENT - CONTINUE READING BELOW ↓
Recommended Videos
[gallery]970[gallery]