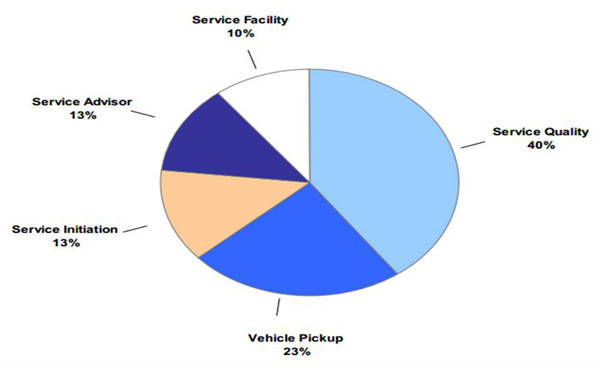 For the second straight year, Chevrolet is the best carmaker in the Philippines in terms of after-sales customer service, according to JD Power Asia Pacific's 2012 Philippine Customer Service Index (CSI) Study. The study also shows that overall satisfaction with authorized dealer customer service in the Philippines has increased by 25 points from last year, now 821 on a 1,000-point scale.
Now in its 12th year, the study examines five factors that contribute to overall satisfaction of vehicle owners who visit an authorized service center for maintenance or repair work during the first 12 to 24 months of car ownership. These factors are service quality, vehicle pick-up, service initiation, service advisor, and service facility.
In this latest edition of the CSI study, Chevrolet again ranks highest with an overall index score of 836, performing particularly well in the service quality and service advisor factors. Nissan (832) and Mazda (831) rank second and third, respectively. Nissan scores high in the vehicle pick-up factor, while Mazda is good at service initiation and service facility.
ADVERTISEMENT - CONTINUE READING BELOW ↓
Out of the 11 brands ranked in the 2012 study, eight improved compared with 2011. Mitsubishi improved by 40 index points, followed by Hyundai (+37) and Honda (+35 points).
"Customer satisfaction with automakers in the Philippines is increasing," said Mohit Arora, executive director at JD Power Asia Pacific. "Car companies are working together with their dealer networks toward delivering a better service experience to their customers. This materializes in a growing proportion of customers who are delighted and pleased with the after-sales service experience at authorized vehicle service centers--83 percent combined. In parallel, overall satisfaction with vehicle quality has improved, which is supported by several new product launches in recent years."
ADVERTISEMENT - CONTINUE READING BELOW ↓
Recommended Videos
The study also finds that providing accurate cost estimates and consistently meeting these estimates are key to creating high levels of customer satisfaction. Satisfaction among vehicle owners who claim the actual service costs were the same or less than the original estimate is 828--higher than among owners who say they received no estimate (805) or that the actual costs were higher than the estimate (746).
ADVERTISEMENT - CONTINUE READING BELOW ↓
"Service customers are particularly sensitive about the transparency of the service, notably through receiving accurate cost estimates and how well dealerships are meeting their initial commitments before service begins," explained Arora. "In 2012, 82 percent of customers received cost estimates, which is the lowest rate in the past five years, making this a critical area in which dealers may need to pay greater attention going forward."
Customers also value efforts made by service advisors to conduct a physical inspection of their vehicle, both before and after service. Satisfaction among customers who report that their service advisor performed both a walk-around/multipoint inspection before taking the vehicle in for service and then reviewed the work performed on the vehicle at the pick-up stage, is considerably higher (833) than among those who report either a partial inspection or no physical inspection (764).
Other findings in the study:
* Nearly nine of 10 customers (89 percent) who say they are delighted with dealer service (providing a rating of 10 on a 10-point scale) have made at least one positive recommendation about their service dealer.
ADVERTISEMENT - CONTINUE READING BELOW ↓
* Conversely, among the 28 percent of customers who say they are disappointed (providing a rating of five or below), 33 percent have made at least one negative recommendation.
The 2012 Philippines Customer Service Index Study is based on responses from 1,822 vehicle owners who purchased their vehicle between February 2010 and May 2011, and took their vehicle for service to an authorized dealer or service center between August 2011 and May 2012. According to JD Power Asia Pacific, the study was fielded between February 2012 and May 2012, and included evaluations of 70 car models.
So, do you agree that overall after-sales customer service in the Philippines has improved?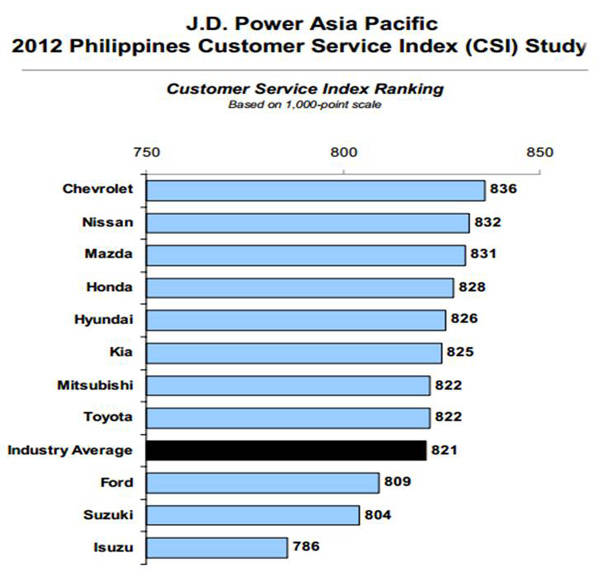 ADVERTISEMENT - CONTINUE READING BELOW ↓