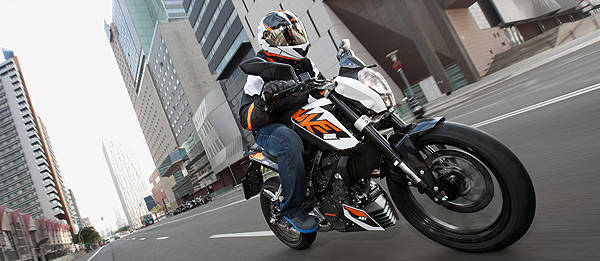 KTM Philippines launched last weekend the Duke 200, the Austrian motorcycle maker's entry in the low-capacity performance market.
According to KTM Philippines, the Duke 200 boasts low-fuel consumption, thanks to its dry weight of 129.5kg. Throw in a 200cc engine producing 25hp and 19.5Nm of torque to propel the motorcycle to a top speed of 140kph, the Duke 200 is "the ultimate gear for either smooth city rides or long-distance runs."
Enhancing the motorcycle's sporty character are the race-line stickers for the bike body and tank "to further enthuse the bold traveler."
The Duke 200 was initially offered only in one color: orange, which is the corporate identity color of KTM. Due to the rising demand, however, KTM launched two more colors for the model: white and black.
"High performance and superior hardware made affordable is value we offer that no other product can compete with," said KTM Philippines chief executive Toti Alberto. "A naked bike is highly customizable; performance hardware can be added to enhance the already premium features. We expect the modern Filipino man to balance function and convenience. The wise consumer asks for it, so we create the perfect formula."
If you love the Duke 200's aggressive lines, you can buy it at KTM Philippines' showroom at 102 P. Tuazon Street in Quezon City for a special December promo price of P195,000.
Continue reading below ↓
Recommended Videos