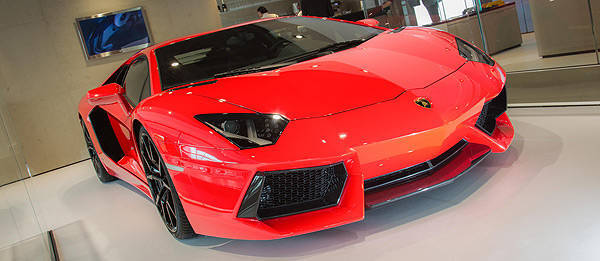 Lamborghini has confirmed that the 2013 Aventador will be a fuel-efficient supercar as the Italian carmaker will introduce an innovative and extremely fast start/stop system and a cylinder management system for its flagship model.
For its start/stop system, the 2013 Aventador will make use of high-performance capacitors, allowing for extremely fast start-ups as the car's V12 power immediately becomes available in just 180 milliseconds, "significantly faster than with conventional systems." The use of capacitors also shaves 3kg off the car as the vehicle battery will only supply power to the 2013 Aventador's electronic systems, and will occupy very little space and last the vehicle's lifetime.
As for Lamborghini's cylinder deactivation system (CDS), if the car is under low load and traveling below 135kph, only one bank of the 2013 Aventdor's V12 is activated, turning it into an in-line-six engine. The slightest throttle input, however, brings the power of all 12 cylinders back online.
According to Lamborghini, both the CDS and the start/stop system work incredibly quickly, and are virtually imperceptible to the driver so that the driving experience of the 2013 Aventador isn't diminished.
With both systems, Lamborghini claims that the average fuel consumption of the Aventador LP 700-4 will drop by seven percent to 16L/100km (6.25km/L), and that at highway speeds of around 130kph, its fuel consumption and noxious emissions will drop by as much as 20 percent.
Continue reading below ↓
Recommended Videos
Lamborghini's confirmation of its new fuel-efficient systems comes almost two months after AutoMotorSport.se reported about it on their site.