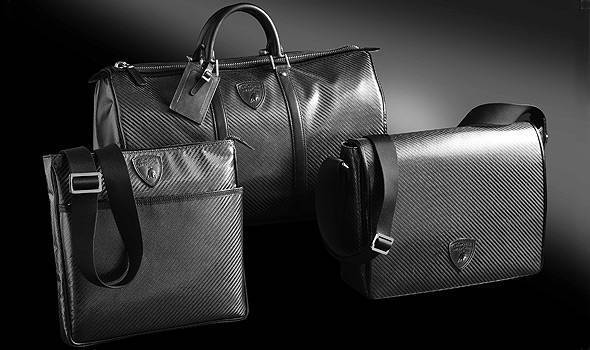 Lamborghini is practically obsessed with carbon fiber because after swathing nearly every component of its supercars in the strong yet lightweight material, the Italian carmaker is now using it in its first carbon-fiber bag collection.
Usually utilized in industrial applications that require the material for both its light weight and resiliency like bicycles, yachts, airplanes and supercars, for the first time, carbon fiber is now being used in its un-stiffened, cloth form to produce fashion accessories.
Made in Italy by Lamborghini, the unisex carbon-fiber collection consists of travel-, messenger- and envelope-style bags. Besides the carbon-fiber exterior, the bags are completed in fine hand-stitched leather and come with palladium-finish galvanized brass accessories, hand-mounted studs and cotton lining. The color is also highlighted by the diagonal graphite reflections typical of carbon fiber. The bags are also unique as each one has been carefully studied and is one-of-a-kind, made entirely by hand by craftsmen who carry out each phase of the process.
"The objects around us change, just as the way we carry them changes. This line of bags explores an absolutely unprecedented use of carbon fiber, taking the thrust of technological innovation that characterizes our supercars, to the world of fashion. These are exclusive objects for those who are not content with practicality, but instead seek a way to stand out from the crowd and stamp their own personality on an accessory," said Automobili Lamborghini president and chief executive, Stephan Winkelmann.
The Lamborghini carbon fiber bag collection will go on sale complete with a maintenance kit at the carmaker's nine flagship fashion boutiques and 120 car dealerships worldwide and online at www.lamborghinistore.com later this year.
ADVERTISEMENT - CONTINUE READING BELOW ↓
[gallery]1024[gallery]
ADVERTISEMENT - CONTINUE READING BELOW ↓
Recommended Videos