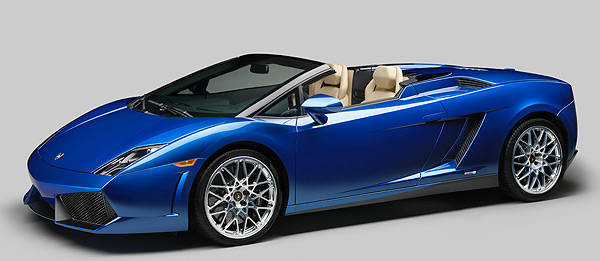 Lamborghini has added another variant to its most successful model ever by combining the sexy and exciting open-top body style with a motorsport purist's preferred rear-wheel-drive orientation to create the Gallardo LP 550-2 Spyder.
The most important technical characteristics of the Gallardo LP 550-2 Spyder are denoted by the car's name: LP stands for Longitudinale/Posteriore for the mid-engine built longitudinally in front of the rear axle; 550 refers to the power output in horsepower and the 2 stands for the drive orientation to the rear wheels.
With the 5.2-liter V10 engine's power going to the rear wheels, Lamborghini retuned and optimized its characteristics for the new orientation, "delivering that perfect and breathtaking synthesis of high-revving pleasure, pulling power, exuberant temperament and powerful melody in all keys." Thanks to the systematic Lamborghini lightweight design and an extremely low dry weight of just 1,520kgs, the Gallardo LP 550-2 Spyder can go from zero to 100kph in 4.2 seconds and has a top speed of 319kph.
With power now going to the rear wheels, Lamboghini's engineers carried out extensive modifications to the Gallardo LP 550-2 Spyder, developing it specifically for these new characteristics. Not only was drive concentrated on the rear axle, the vehicle was also completely retuned in all its dynamic details while the aerodynamics were also adapted to account for the change in the distribution of forces. As astonishing as it may sound, Lamborghini also developed the Gallardo Spyder's soft-top "for unlimited top-speed enjoyment both open and closed."
Continue reading below ↓
Recommended Videos
"With the Gallardo LP 550-2 Spyder, we are expanding the Lamborghini lineup with a purist model that adds yet another dimension of driving fun. This will appeal in particular to a very special group of customers that enjoy a spirited driving style and also like to experience the sheer pleasure of open-air driving," said Stephan Winkelmann, president and chief executive of Automobili Lamborghini. "This special model with rear-wheel drive is a logical expansion of our lineup of Spyder models with all-wheel drive."
[gallery]1097[gallery]