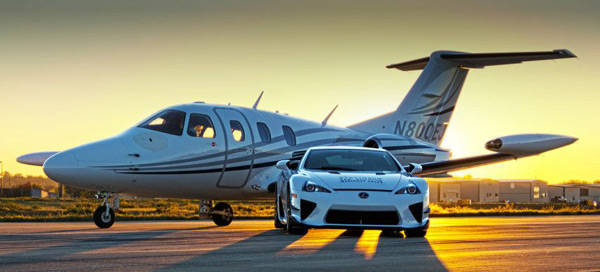 Lexus has just staged a stunt race in Colorado in the United States, in which it pitted its LFA supercar (with the Nurburgring package) against an Eclipse 500 executive jet.
Now, you're probably wondering why Lexus chose to race the LFA against "the most fuel-efficient, lowest-emission executive jet available in North America" when other supercars like the Bugatti Veyron and the Lamborghini Aventador had gone up against super-fast fighter planes like the Eurofighter Typhoon and the F-16. Well, here's the clincher: The LFA was driven by race car driver Scott Pruett and launched from a standing start, while the Eclipse 500 was already flying as it crossed the starting line at a speed of approximately 278kph.
The outcome? Lexus has just made the following announcement: "The LFA Nurburgring with Scott Pruett at the wheel raced an Eclipse 500 jet down the 4,800ft runway of Vance Brand Municipal Airport in Longmont, Colorado, and back. Winner? The LFA in 56 seconds."
Check out the video below in which Lexus's Paul Williamsen explains the complete details of the stunt race.
If you're viewing this on a mobile device and can't see the video, please click here.
Continue reading below ↓
Recommended Videos