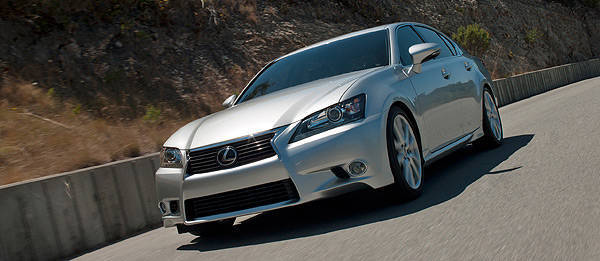 The all-new Lexus GS has finally been revealed in conjunction with the Pebble Beach Concours d'Elegance. Surprisingly enough, it looks sporty yet conventional despite the Audi-like grille hinted at when a teaser photo was released earlier this month.
"Today, buyers in the mid-size luxury segment want a more engaging driving experience, styling that makes a statement, and a roomier interior package," said Mark Templin, Lexus group vice president and general manager. "With the all-new GS, we're giving them what they asked for, and more."
The GS is the first Lexus to exhibit the Japanese luxury carmaker's new signature spindle grille, which integrates into the aggressive front bumper for a more efficient airflow. From the side, with its tapered lowered door sills, short front overhang and width-enhancing wheel arches, the all-new GS projects the image of a spacious performance sedan with its road-hugging stance. Much like the front, Lexus concentrated on the GS's rear airflow by utilizing a diffuser and centered aero fins to help control its exit through the car's underbody.
Continue reading below ↓
Recommended Videos
Even the paint technology used on the GS has been developed to make its subtle bodylines more noticeable and the surface appear finely polished as glass flakes have been incorporated into the coating to add a high level of brilliance to the paint.
Though the all-new GS's exterior dimensions remain virtually unchanged, Lexus engineers have managed to create for it a more spacious and richly appointed interior environment. Designed from the start as a sport sedan, the GS's cabin is focused around the driver and the driving experience as the redesigned seat frame and changes to the steering column give increased comfort and better forward visibility. Revised door openings offer easier entry and exit and boot access is improved with a wider, deeper opening. Luggage capacity has also been increased by nearly 25 percent.
The interior includes a number of embedded premium features as standard equipment like a new energy-saving auto climate control system called S-Flow, which uses the occupant-detection system to focus airflow only to the front area where passengers are actually seated--a first-in-class technology. New white LED lights are sequentially lit to illuminate the areas around the doors, center console and footwells. Cabin materials include three types of wood and meticulously detailed contrast stitching is used as a visual accent around the interior to create a rich, tailored interior space.
The GS also offers significant advances in both passive and active safety systems as standard equipment, like the class-leading 10-airbag system, which includes knee airbags for both the driver and front passenger. Rear seat occupants have seat-mounted side airbags, and all four outboard occupants are equipped with side curtain airbags. New whiplash-injury-lessening front seats increase the likelihood that occupants will be in the optimum position at the moment of impact, enhancing the protective effect of the seatbelt system. Also available are a pre-collision system, which uses the dynamic radar cruise control system to provide early warning of upcoming objects that might result in a collision, a night-vision system that enhances driver visibility in the dark, a head-up display, a blind-spot monitor that helps detect vehicles in the car's blind spots; and a lane-keep assist with lane-departure warning systems.
Powering the GS 350 is an advanced 3.5-liter V6 engine with dual Variable Valve Timing with intelligence (VVT-i). With an output of 306hp, it is one of the most powerful base engines in its segment as it propels the GS from zero to 100 kph in 5.7 seconds. Paired to it is a paddle shifter-equipped six-speed sequential shift automatic transmission that incorporates many features adopted from the Lexus IS F high-performance sedan--including faster shifts, earlier torque converter lockup and downshift throttle blips.
Besides the Lexus GS 350, other GS models will be launched in early 2012, including the hybrid and F Sport versions.
[gallery]1009[gallery]