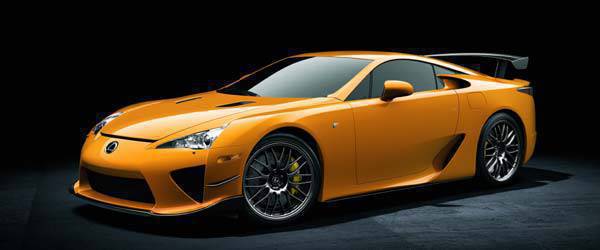 Lexus, the luxury marque of the Toyota group, has confirmed plans to produce a rare edition of its new supercar: the Lexus LFA Nürburgring Package.

The LFA Nürburgring Package will be available for only 50 units of the 500 standard LFA's that will be hand-assembled for global distribution.

This Lexus supercar will run the same 4.8-liter V10 engine of the standard LFA, it has been tweaked to produce an additional 10hp, giving it a total of 562hp. Swapping cogs is also much faster as it takes just 0.15 second to change gears. Other changes that are exclusive to the LFA Nürburgring Package are a sports-tuned suspension system and black mesh-type wheels with matching high grip tires to improve the LFA's already phenomenal handling while a larger front spoiler and a fixed rear wing gives it even more downforce.

"This Nürburgring Package builds on the track-ready Lexus supercar with styling cues from the 24 Hours of Nürburgring prototype LFA racecar," said Mark Templin, Lexus Division group vice president and general manager.  "Driving enthusiasts will also appreciate the Nürburgring Package's performance enhancements that were proven on the legendary German track."

The LFA Nürburgring Package will be available in four exterior colors: whitest white, orange, black and matte black, and three interior colors: black, red, and violet.  All 50 units, however, will get the carbon fiber center console and door trim.

The LFA Nürburgring Package will cost an additional $70,000 over the standard LFA's price of $375,000. The matte black exterior will also carry an additional $20,000.
Continue reading below ↓
Recommended Videos