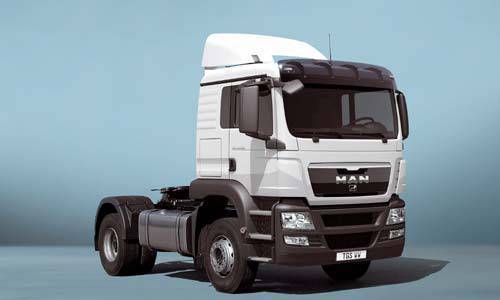 MAN Automotive Concessionaires Corp., the exclusive distributor and assembler of MAN trucks and buses in the country, has launched a fresh lineup to offer tougher commercial vehicles to the Filipino market.
MAN Automotive launched the TGS Series designed to be robust, economical, and reliable with Euro 3-compliant inline-six, 10-liter engine that produces up to 430 horsepower and 2100 Newton meters of torque. The engine is paired with either a 16-speed manual or a 12-speed TipMatic transmission. This allows the TGS series of trucks to pull up to 28 tons of cargo.
The TGS series of trucks promises to keep the driver comfortable for long-haul trips as the cab is mounted on a coil spring suspension while the driver's seat utilizes air suspension. The chassis is made of lightweight supporting frames that, though smaller, have a high payload and load-bearing capacity. The trucks are also available with different axle formula or suspension types depending on the kind of deployment it'll see on our roads.
MAN Automotive said the TGS trucks are also among the safest trucks available today. Besides coming with anti-lock braking and electronic braking systems, the truck's maximum speed can be set electronically depending on the cargo's safety requirement.
Continue reading below ↓
Recommended Videos
The TGS series is based on the truck that MAN first fielded at the 2007 Dakar Rally where it finished in the top ten in the truck class. It was also named as the International Truck of the Year in 2008, making it the seventh MAN truck to receive the award since it was first handed out in 1977.
"We don't look at Chinese and Japanese trucks as our competitors because MAN trucks like the TGS series are ahead of them in terms of technology and efficiency," said Martin Sommer, marketing and communications chief of MAN Truck & Bus Asia Pacific to TopGear.com.ph. "Our trucks may be a little more expensive but that's because they're tougher, more reliable, and parts are readily available. With a MAN truck, you'll be getting your money's worth."
The MAN TGS series of trucks are manufactured in Germany and are imported as completely built-up units.
Prices of the TGS series of trucks start at P4 million minus the taxes and duties.