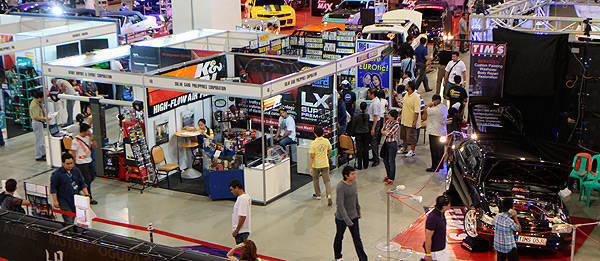 If there's one thing the coming Christmas season brings out more than Christmas cheer, it's the petty thieves who look to prey on your hard-earned 13th month bonus and any other valuable item they can get their filthy little hands on.
As it so happens, these thieves are now using the 2012 Manila Auto Salon as their playground, knowing that a significant numbers of visitors are flush with cash and ready to dispose of it for whatever aftermarket part catches their fancy. There are also the exhibitors who are also expected to have a huge amount of money with them as their sales climb through the day, and, of course, the photographers and their zoom lens that could capture every follicle on a booth babe's skin.
On the first day alone and in the span of just a couple of hours, we became privy to three incidents of theft.
One visitor reported that her credit and ATM cards were stolen as she roamed around the area. An exhibitor, meanwhile, became the victim of a salisi gang who took advantage of the crowd milling around the booth to take off with the wallet which contained the exhibitor's local and international credit and ATM cards.
Continue reading below ↓
Recommended Videos
And then there's the motoring journalist who briefly left his DSLR camera on a table and asked someone manning the booth to keep his eye on it. When he came back later, not only was the camera missing, but the person he asked to look after it had no clue as to where it went.
So, if you're going to the show later or tomorrow, make sure to keep a close eye on your belongings at all times. We'd hate to see you walk away from the show with just brochures in your hand.