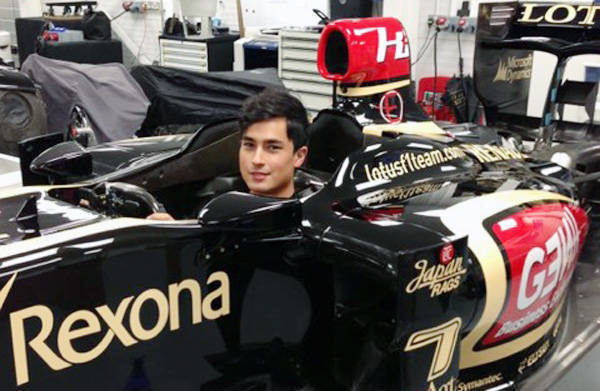 As a member of the Lotus F1 Junior Team, Marlon Stockinger is really just a step away from joining the pinnacle of motorsports that is Formula 1. After all, ex-F1 driver Robert Kubica broke into the series by winning the Formula Renault 3.5 Series--the same series that Stockinger will be competing in when its 2013 season kicks off on April 6.
While we all wish Stockinger the best for this year, he doesn't have to wait too long to get behind a Lotus F1 car.
On April 2, at the Circuit Paul Ricard in France, Lotus F1 is giving Stockinger the opportunity to sit in its F1 car, and, with four sets of tires, drive it for approximately 350km around the track the entire day.
"As a matter of fact, I have to fly back to Europe next week for the seat fitting for the F1 car," said Stockinger.
We asked him how different the Formula Renault 3.5 Series is from the GP3 Series he drove in last year. According to Stockinger, the Formula Renault 3.5 Series is the closest thing to an F1 car, as it has nearly twice the power of a GP3 car and is equipped with a drag reduction system like today's F1 cars.
ADVERTISEMENT - CONTINUE READING BELOW ↓
Also, the good-looking driver pointed out that Formula Renault 3.5 cars are "six seconds slower" than an average F1 car over a single lap of a regular racetrack.
"I'm very nervous, actually, but that's typical whenever I get behind the wheel of a new car," Stockinger added when asked if he thinks he's ready to drive the Lotus F1 car. "But the training regimen we receive at Lotus is the same as that of the F1 drivers, so I'm sure I can handle it."
Let's all wish our kababayan the best, not only for the historic feat of being the first Filipino to drive an F1 car, but also for a successful season in the Formula Renault 3.5 Series.
ADVERTISEMENT - CONTINUE READING BELOW ↓
Recommended Videos