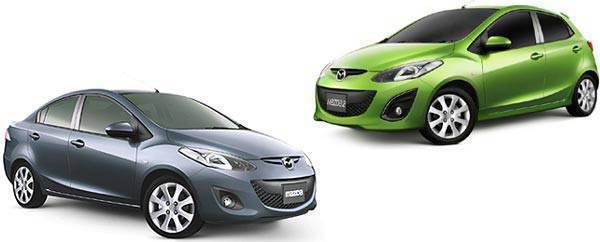 Mazda Philippines has officially launched the hatchback and sedan variants of the Mazda 2 in the local market.
"The New Mazda 2 is enjoyable in day-to-day life, not just in terms of driving pleasure but also in terms of the enjoyment that comes from owning such a great car," said Steven Tan, Mazda Philippines vice president for marketing and sales. "Within its compact dimensions, Mazda 2 perfectly encapsulates Mazda's Zoom-Zoom approach to carmaking--an approach that's about individuality, not about being average. For people who value individuality and style, there's no better choice."
ADVERTISEMENT - CONTINUE READING BELOW ↓
The five-door hatchback variant of the Mazda 2 has been on sale in authorized Mazda dealers since December 2009. While the sedan variant only became officially available today, customers have already expressed interest in acquiring the four-door Mazda 2.
"We just recently put the Mazda 2 sedan on display and some customers have already placed their order for it," Mazda brand manager Prudz Castillo told TopGear.com.ph. "Although the hatchback was launched first, we believe more people will buy the sedan because they see it as the more practical choice because of its trunk."
Style-wise, the Mazda 2 sedan is more reserved than the hatchback variant as it lacks the sporty accoutrements like the side skirts and rear spoiler. The sedan, however, offers a five-speed manual transmission and gives its driver the opportunity to time his gear change.
The Mazda 2 sedan is also available with the same four-speed automatic transmission as the hatchback and it will also utilize the same MZR 1.5-liter engine that produces 103hp and 135Nm of torque at 4,000rpm.
ADVERTISEMENT - CONTINUE READING BELOW ↓
Recommended Videos
The Mazda 2 five-door R variant with automatic transmission is priced at P795,000 while the Mazda 2 four-door variants, the R with automatic transmission and the V with manual transmission, are available for P785,000 and P725,000, respectively.