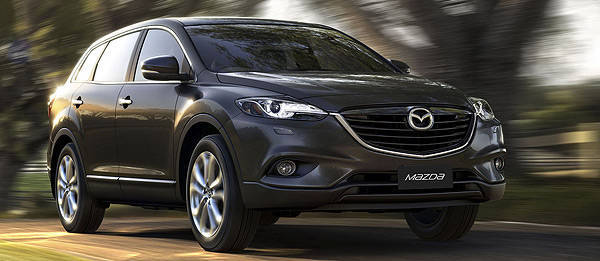 Mazda is giving the CX-9 a new face, nearly three years after its first face-lift in 2009. This time, though, the face-lift is on the radical side as it completely junks the front fascia that--save for a few styling tweaks with the bumper and the grille--has been carried over since the model's debut in 2007.
Now, to keep its looks up-to-date with Mazda's recently launched models, the Japanese carmaker has applied to the CX-9 its Kodo "Soul of Motion" design language, making the vehicle look like an SUV version of the recently launched Mazda 6 sedan and station wagon.
Besides the new look, enhancements to the CX-9's craftsmanship and interior design improve the vehicle's feeling of quality and refinement. In addition, advanced active-safety features, such as the forward obstruction warning system, lane departure warning system, and high-beam control system, help the refreshed CX-9's driver to recognize and avoid danger.
Continuing to propel the CX-9 is the same 3.7-liter V6 engine mated to the same six-speed automatic transmission.
The refreshed Mazda CX-9 will make its debut at the 2012 Australian International Motor Show in October.
Continue reading below ↓
Recommended Videos