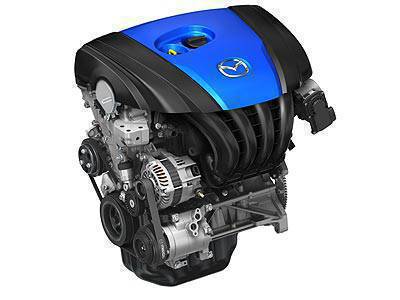 Mazda has revealed its next-generation of vehicles will be equipped with systems designed to run with less fuel and emit lower amounts of carbon dioxide.
With Mazda's new SkyActiv system set to be launched in 2011, Mazda is now concenrating on lightweight construction. This will be followed by efforts to improve technologies like regenerative brake systems and hybrid power systems.
The SkyActiv-G petrol engine, for example, is set to achieve fuel consumption levels equivalent to that of hybrid powertrains without the use of any electric components. This is a result of an engine compression ratio of 14.0:1, which Mazda claims is the highest ever used in a production petrol engine. This allows the engine to consume 15 percent less fuel while boosting torque output by 15 percent.
The SkyActiv-D diesel engine also uses the compression ratio, which Mazda again claims is the lowest ever employed for a diesel engine. This results in a 20-percent reduction in fuel consumption and cleaner combustion, which would allow the engine to meet future Euro 6 emission standards.
Mazda's SkyActive-Drive automatic transmission combines the advantages of a conventional automatic transmission, a continuously variable transmission and a double-clutch transmission. Its widened lock-up range increases the torque converter's efficiency, improves torque transfer efficiency and "gives a direct driving feel that is comparable to a manual transmission." The new-generation transmission also improves fuel consumption by up to seven percent compared to a current, conventional torque-converter automatic transmission.
Continue reading below ↓
Recommended Videos
The SkyActiv-MT manual transmission, meanwhile, is an especially lightweight and compact manual transmission that exhibits less internal friction which contributes to lower fuel consumption. Its compact size allows for efficient vehicle packaging while its short selector stroke and light shift feel are reminiscent of a sportscar's.
The body and chassis of next-generation Mazda vehicles will also be lighter to support the Japanese carmaker's goal in producing more fuel efficient and environment-friendly vehicles.
Mazda said the newly-developed SkyActiv-Body is eight percent lighter but 30 percent stiffer. Its light weight is achieved by using high-tensile steel and optimizing its use of bonding materials. The SkyActiv-Chassis, meanwhile, comes with "a newly-developed suspension that is 14 percent lighter than the current suspension and delivers precise handling and high quality ride comfort."
Looks like the future has been mapped out for Mazda. Excited yet?