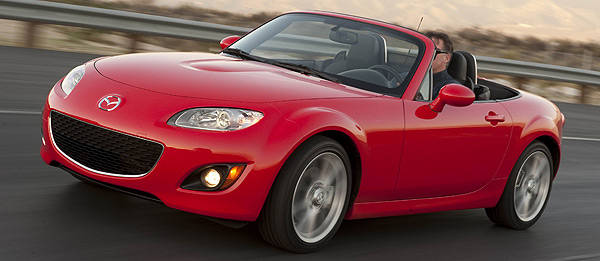 The Mazda MX-5 has indeed gained some weight through its existence that has spanned three generations, starting with just 940kg when it first came out. It now weighs over 1,100kg.
This, apparently, was a good enough reason for Mazda to give its engineers the challenge of reducing the next-generation MX-5's weight by no less than 326kg, InsideLine.com reported.
In effect, Mazda is targeting that the weight of the next-generation MX-5 be close to that of the first-generation model.
Citing a "senior insider" with knowledge to the next-generation MX-5's development as source, the report said that though the car may not meet its required weight target, the steps Mazda has taken to cut down weight was "not bad."
Some of the weight-saving measures that are being taken for the next-generation MX-5 are to use lightweight but high-strength steel for the body and equipping it with a smaller, lightweight engine that could even be turbocharged to keep the power output roughly the same.
The next-generation MX-5 could also take a minimalist approach. The glovebox, for example, might totally be removed in favor of other storage devices while the heavy owner's manual might be replaced by a USB stick.
There is no word, though, as to what kind of roof the next-generation MX-5 might have, if the retractable hard top will remain as an option or if it will only be offered with a manually-operated soft-top.
Continue reading below ↓
Recommended Videos