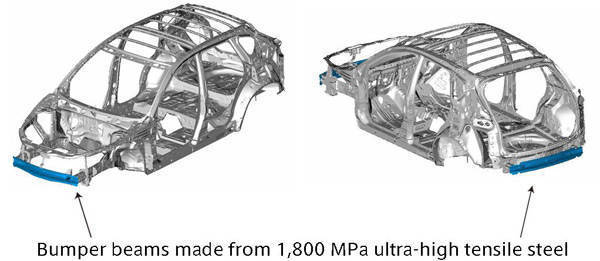 The upcoming Mazda CX-5 is all set to make history when it is launched early next year as it will be the very first vehicle to make use of super-strength high tensile steel.
With the help of Sumitomo Metal Industries and Aisin Takaoka Company, Mazda Motor is the first carmaker to successfully develop vehicle components using ultra-high tensile steel that can withstand pressure of up to 1,800 megapascal (MPa) or equivalent to 18,000 bars. As a point of comparison, the water at the deepest section of the Mariana Trench, the deepest part of the world's oceans at 10.91 kilometers, exerts a pressure of 1,086 bars.
Mazda will first use this new production technology to fabricate bumper beams that fit inside the front and rear bumpers of the CX-5 to reduce damage in the event of a collision. According to the Japanese carmaker, the new bumper bars are 20-percent stronger and 4.8 kilograms lighter than previous versions and are a key part of Mazda's next-generation, lightweight and highly rigid vehicle architecture.
ADVERTISEMENT - CONTINUE READING BELOW ↓
Normally, stronger materials are less pliant and therefore absorb less energy in a collision. To overcome this, Mazda conducted extensive research into how bumper beams deform in a crash and created a new design that absorbs energy more efficiently. To ensure the bumpers provide maximum strength in the CX-5, Mazda collaborated with Futaba Kogyo Company to optimize the welding techniques and to establish a reliable manufacturing process.
"Mazda remains committed to reducing vehicle weight and improving dynamic performance while also maintaining a high level of body rigidity and excellent crash resistance, in order to provide all its customers with driving pleasure and outstanding environmental and safety performance," Mazda said in a statement.
ADVERTISEMENT - CONTINUE READING BELOW ↓
Recommended Videos