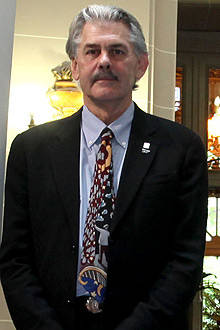 Gordon Murray, the designer behind the legendary McLaren F1 supercar, has joined Group Lotus as part of the Lotus Advisory Council. Murray joins fellow car industry luminaries like Bob Lutz, Tom Purves, Prof. Dr. Burkhard Göschel and Frank Tuch in advising Group Lotus on its current and future development.
"Gordon has never been afraid to trail blaze, take risks and do things differently, these are attributes that we are very familiar with and very proud of at Lotus," said Group Lotus chief executive Dany Bahar. "With his incredible and unique motorsport and design experience he will complement the existing council line up perfectly. We're very much looking forward to working with him."
When Murray started his motorsport career in 1969, he originally wanted to work for Lotus but a chance meeting with Brabham designer Ron Tauranac led to him working for Brabham where he was later appointed as chief designer by Bernie Ecclestone, who was then the team's boss. During his time in F1, Murray designed numerous Grand Prix winning cars and was heralded by many as leading the way in terms of innovation and pioneering new technologies.
More recently, Murray established Gordon Murray Design to develop an innovative and disruptive automotive manufacturing technology known as iStream. The design and prototyping of Gordon Murray Design's T.25 petrol and T.27 electric ultra compact city cars have been central to both the development and validation of this process.
Continue reading below ↓
Recommended Videos
"For years I've been a huge admirer of Lotus, I have great respect for the legacy that Colin Chapman created and I think what Dany and the team are doing is a really good thing for the brand," said Murray. "He's taking the strength from Chapman's principals and taking the business to the next level whilst still keeping the general ethos--not an easy task! I'm really looking forward to contributing to Group Lotus during this exciting time."
Photo from Gordon Murray Design