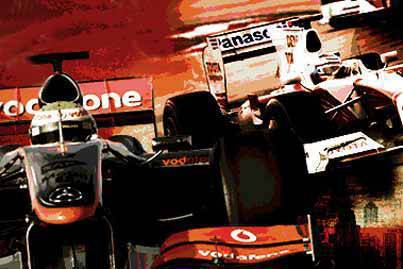 Expect a more cautious Vodafone McLaren Mercedes team in the succeeding legs of the ongoing Formula One season.

McLaren received a three-race ban from the World Motor Sport Council (WMSC) of the Fédération Internationale de l'Automobile (FIA) after it admitted "mistakes" made during the Australian Grand Prix.

McLaren initially accused Toyota's Jarno Trulli of racing violations for overtaking Lewis Hamilton while the safety car was out on the Melbourne track. The complaint resulted in Trulli's 25-second penalty and his drop to 12th place, while Hamilton took his spot on third.

Audio records later revealed the McLaren team instructed Hamilton to let Trulli pass. Hence, no violation was made.

A hearing was conducted following McLaren's alleged intent to mislead race stewards who were investigating the Hamilton-Trulli incident - a move that violates the International Sporting Code.

In a statement, WMSC said McLaren "admitted" charges related to "fraudulent conduct or any act prejudicial to the interest of any competition" in motorsports.

The council, however, suspended the penalty for McLaren due to the team's "open and honest way" in addressing the charges against it.

"This (three-race ban) will only be applied if further facts emerge regarding the case or if, in the next 12 months, there is a further breach by the team of article 151c of the International Sporting Code," the FIA said in a statement.

McLaren team principal Martin Whitmarsh said the WMSC's hearing was "very fair" and that he welcomed it as another opportunity to apologize for the mistake of his team.

"I was also pleased to be able to assure the FIA World Motor Sport Council members that we had taken appropriate action with a view to ensuring that such mistakes do not occur again," Whitmarsh added.
FIA president Max Mosley said McLaren has showed signs of change within the team's culture.
"It looks better to put the whole thing behind us, so unless there is something similar in the future, that is the end of the matter," Mosley added.

With the Melbourne controversy behind them, members of the McLaren group can go back to concentrating on helping Hamilton retain his world title.

And with the end of another F1 drama, regular programming goes back to how other teams can catch up with Brawn GP's rapid pace.