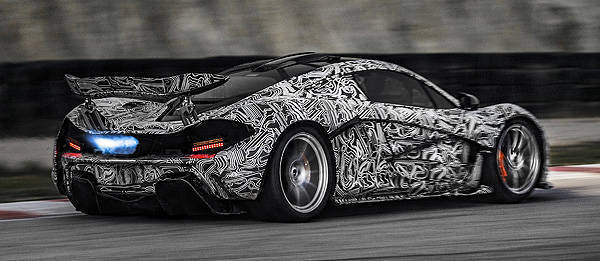 After making its debut at the Paris Motor Show in September 2012, the McLaren P1 is now in the middle of its development, with the ultimate goal of being "the best driver's car in the world on road and track."
According to the British carmaker, a dedicated team of McLaren engineers, technicians and racing drivers are currently running a fleet of XP-code-named vehicles around the clock in some of the most demanding conditions, and on roads and circuits across the globe. The rigorous testing procedures for the P1 has also seen the development team working closely with McLaren Automotive's technology partners on bespoke components and developments, including Akebono on a highly efficient braking system, Pirelli on high-performance tires, and Mobil 1 on cooling, lubrication and hydraulic fluids.
A noteworthy feature of the McLaren P1 development car is its camouflage. Designed in-house by the team that shaped the car, the graphic reportedly incorporates the outlines of famous race circuits from around the world, each of which is significant to McLaren's history.
"As all these activities converge on the final specification, a remarkable vehicle is emerging," McLaren Automotive said in a statement. "The P1 is set to deliver truly outstanding road and track dynamics and performance, coupled with levels of drivability and refinement unprecedented in such a supercar."
Continue reading below ↓
Recommended Videos
Watch the two-minute video if you want to see the most detailed view yet of the production McLaren P1.
If you're viewing this on a mobile device and can't see the video, please click here.