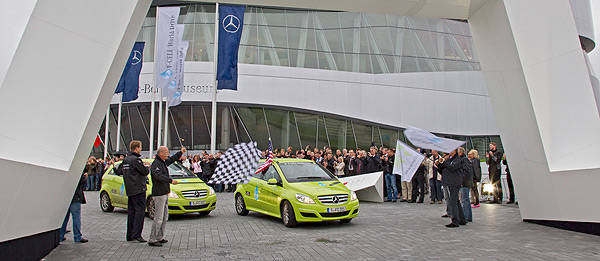 Mercedes-Benz kicked off the 125th anniversary of the automobile in January 2011 by sending off three B-Class fuel-cell vehicles on a round-the-world drive. After 70 days of driving to cover more than 30,000 kilometers, the vehicles made it back to Stuttgart, Germany, and crossed the finish line in front of the Mercedes-Benz Museum.
"With the F-CELL World Drive we have shown that the time for electric vehicles with fuel cell has come. Now the development of the infrastructure has to pick up speed," said Dieter Zetsche, chairman of the board of management and head of Mercedes-Benz Cars. "Only an adequate number of hydrogen fueling stations enables car drivers to benefit from the advantages of this technology: high range, short refueling times, zero emissions."
As there are only approximately 200 fuel stations around the world that can accommodate fuel-cell vehicles, Mercedes-Benz tapped the Linde Group as its exclusive partner for hydrogen supply on the F-CELL World Drive.
ADVERTISEMENT - CONTINUE READING BELOW ↓
Thanks to its hydrogen expertise and global presence, the Linde Group was able to guarantee the fuel supply of the three B-Class vehicles throughout the entire world trip via a jointly-developed mobile refueling unit based on a Mercedes-Benz Sprinter. The mobile refueling unit served as a support vehicle by being the only means to ensure the fuel supply of the three F-CELL vehicles in even the most remote stretches.
During the F-CELL World Drive, Mercedes-Benz proved the performance and robustness of its three B-Class fuel-cell vehicles by driving not only in downtown areas, on country roads and lengthy stretches of highways but also over rough, unfinished surfaces like in certain stages in Australia and China.
Over a total of 70 driving days, participants in the F-CELL World Drive collected an abundance of notes that not only documented the various aspects of the tour but also underscored the everyday usability of fuel-cell technology used by the B-Class F-CELL vehicles.
ADVERTISEMENT - CONTINUE READING BELOW ↓
Recommended Videos
A record distance of 648 kilometers, split between two stretches of more than 300 kilometers each, was covered on the drive from Almaty to Balkhash in Kazakhstan. Another likely record is the number of inhabitants in the places visited by the tour, ranging from no more than 20 in Balladonia, Australia, to an impressive 19 million in Shanghai, China.
Due to the still insufficient hydrogen infrastructure, the mobile refueling unit was used over 130 times to refuel the B-Class vehicles. During the world tour, the B-Class fuel cell vehicles were refueled in just a few minutes at two hydrogen fueling stations.
[gallery]952[gallery]