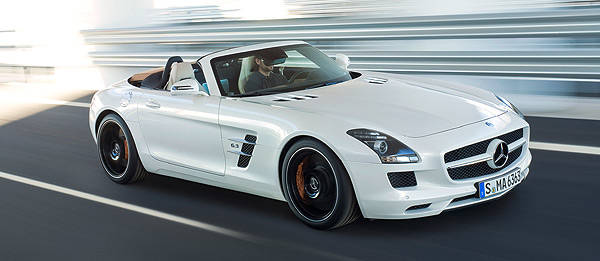 We imagine that the Chief may be livid with this bit of news as Mercedes-Benz has officially unveiled the soft-top version of its gull-winged grand tourer in the SLS AMG Roadster.

Like the hardtop SLS AMG, the Mercedes-Benz SLS AMG Roadster has an aluminum spaceframe body and is equipped with the same 6.3-liter V8 AMG engine and seven-speed dual-clutch transmission as the former.
Of course, the magic of the SLS AMG Roadster lies in the compact fabric soft top that can be opened and closed in 11 seconds as well be operated on the move at up to 50kph. To operate the roof, the driver only needs to reach for its control unit that's conveniently integrated at the front of the center armrest. The three-layered fabric soft top is constructed with weight-optimized magnesium, steel and aluminum, which greatly contribute to the car's low center of gravity and has a seamlessly-bonded rear window made of heated single-layer safety glass. In addition, the flush, gap-free transition between the outer roof skin and the rear window keeps wind noise at a minimum while a continuous, flexible water pocket runs under the soft top to catch rainwater and direct it to the underbody via two apertures on each side. What's incredible, though, is that the boot's capacity whether the roof is up or down is at 173 liters, almost equal to that of the SLS AMG Coupe's 176 liters.
Continue reading below ↓
Recommended Videos
The soft top of the SLS AMG is available in either black, red or beige to suit the nine exterior and eight interior colors.
The SLS AMG Roadster also comes with a new feature known as the AMG Performance Media, which is basically an innovative multimedia system inspired by motorsport that offers "an unrivalled combination of numerous telemetric displays such as lateral and linear acceleration, various engine data and lap times on a racetrack, and also features high-speed mobile internet access."
"Systematic lightweight construction, outstanding performance and a breathtaking design combined with sensuous open-air driving pleasure--the new SLS AMG Roadster perfectly embodies the AMG philosophy of German engineering and craftsmanship," said Ola Källenius, chairman of Mercedes-AMG GmbH. "The gull-wing model has already thrilled sports car fans all over the world, and now the open-top version is bound to cause a sensation."
[gallery]943[gallery]