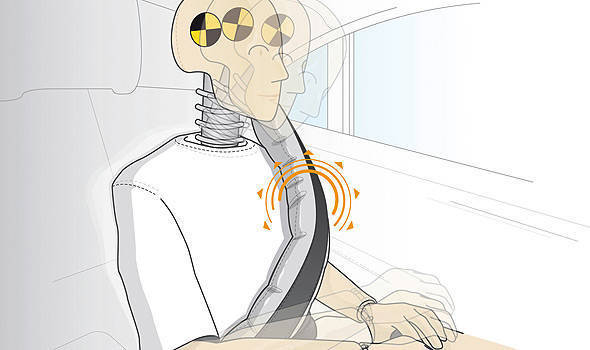 Mercedes-Benz is set to introduce on one of its luxury-class vehicles an inflatable seatbelt strap which the German carmaker calls "Beltbag," making the company the third car manufacturer to do so, after Ford with its Explorer and Lexus with the LF-A.
According to the carmaker, the inflatable seatbelt strap is able to minimize the risk of injury to rear passengers in a head-on collision by reducing the strain placed on the rib cage. Should the car's crash sensors detect a severe frontal impact, the airbag control unit will trigger the deployment and inflation of the Beltbag, with a gas generator inflating the multi-layered belt strap with Velcro seams to nearly three times its normal width. The resulting larger surface area is reportedly able to better distribute the force acting on the seat occupant, thereby reducing the risk of injury.
Though the Beltbag is used in exactly the same way as a conventional seat belt, the belt strap's design is different from that of the standard belt. It has received top marks in practical trials for being extremely comfortable to wear and for its extra-soft belt strap edge.
"Mercedes-Benz is pursuing its safety initiative in the rear of vehicles with the Beltbag," said Rodolfo Schoneburg, head of passive safety and vehicle functions at Mercedes-Benz. "After all, the excellent standard of safety offered by Mercedes-Benz doesn't just apply to all model series, but to all seats, too."
Continue reading below ↓
Recommended Videos