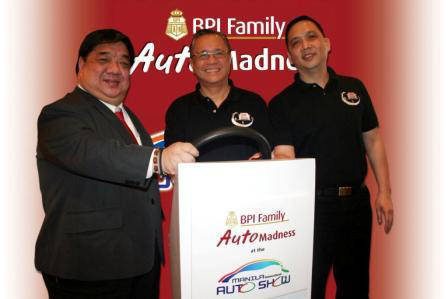 Getting a new car this summer just got easier as BPI Family Savings Bank (BFSB) brings its Auto Madness program to the 7th Manila International Auto Show from April 7 to 10.
Simply put, this means you can enjoy the checking out commercially-available cars during MIAS 2011 and just head on to BPI Family Savings Bank's booth located inside and at the lobby of the World Trade Center when you've decided which vehicle to buy.
Since BFSB is holding its Auto Madness during the event, successful applicants get a free GPS navigation device for approved loans worth at least P700,000 at a 36-month term.
Aside from the navigation device, clients also get a free Petron-BPI MasterCard with free fuel and fuel rebates.
BPI Family Savings Bank's presence at MIAS 2011 is in line with Bank of the Philippine Island's 160th anniversary celebration. The bank is also holding a BPI Day at the MIAS on April 8 so the first 5,000 BPI clients who can show a BPI ATM card or credit card can enter the MIAS exhibit floor for free.
Prior to the MIAS, BPI clients may enjoy BFSB's Auto Madness at the Ayala Center in Cebu from April 1 to 3 and at the Lim Ket Kai Mall in Cagayan de Oro from April 4 to 16.
Continue reading below ↓
Recommended Videos
BPI Family Savings Bank is Top Gear Philippines' New Car Guide partner.