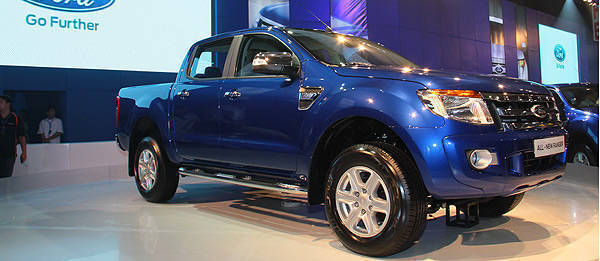 We've waited over a year for it so it's good to know that the all-new Ford Ranger pickup truck is finally here.
To be offered solely as a double cab, the all-new Ranger is available in three variants--the 4x2 XLT in either six-speed manual or automatic transmissions, and the 4x4 XL in manual transmission. The Ranger is also available with a choice of two new diesel engines--Ford's Duratorq TDCi 2.2-liter VG Turbo or the Duratorq TDCi 2.2-liter Turbo.
The Ranger's new Duratorq TDCi 2.2-liter VG Turbo engine puts out 148hp and 375Nm of twist. On a 4x2 variant, Ford claims that the fuel consumption of this new four-cylinder diesel engine in a combined city/highway cycle ranges from 13.2km/L. Coupled with the vehicle's 80-liter fuel tank and the Ranger's potential range is more than 1,000 kilometers on a single tank of diesel.
Engineered and tested to ensure it can stand up to the toughest challenges, the all-new Ranger is capable of wading through up to 800 millimeters (over 2.6 feet) of water even when fully laden. It also boasts outstanding payload capacity of more than 1,400 kilograms as well as excellent ground clearance of up to 237 millimeters.
"The All-New Ranger is the first pickup truck to be built under the One Ford strategy and has benefited tremendously from the full engineering expertise of Ford around the world," said Vinay Piparsania, Ford Group Philippines' vice president for marketing and sales. "This has enabled us to deliver a truck with no compromise, a truck that provides customers around the world with quality, fuel efficiency, safety and smart technology in one complete package."
Continue reading below ↓
Recommended Videos
The all-new Ranger's styling is dominated by Ford's signature three-bar grille. Helping to emphasize its sportier, more dynamic silhouette are its short front overhang and raked back windscreen to give it a more modern, aerodynamic look. Larger headlamps, bigger mirrors and stamped-in wheel lips also provide an integrated look across all series and contribute to an aggressive and sporty stance.
Although the all-new Ranger is bigger than the model it's replacing, it's still promises to be easy to maneuver on narrow city streets and while parking, thanks to a responsive steering system that requires no more than 3.5 turns of the wheel lock-to-lock.
Inside, the all-new Ranger offers more space for the rear seat's occupants as the B-pillar has been moved forward to deliver best-in-class rear leg room and knee clearance. Ford even claims that three adults can easily fit in the second row of the Ranger with two six-footers comfortably seated one behind the other. Making full use of the spacious interior, the Ranger offers more than 20 storage spaces in the cabin, with the glove box large enough to accommodate a 16-inch laptop computer. Door pockets can comfortably fit 1.5-liter water bottles. Ample storage for mobile phones and other small items can be found in the console and in areas within easy reach of the driver. Underneath the rear seats, a convenient hidden storage area for tools can be easily accessed.
The all-new Ranger officially goes on sale in July at P1.179 million for the 2.2-liter Ranger 4x4 XL, P1.119 million for the 2.2-liter Ranger XLT 4x2 AT and P1.069 million for the 2.2-liter Ranger XLT 4x2 MT .