Veyron for a Corvette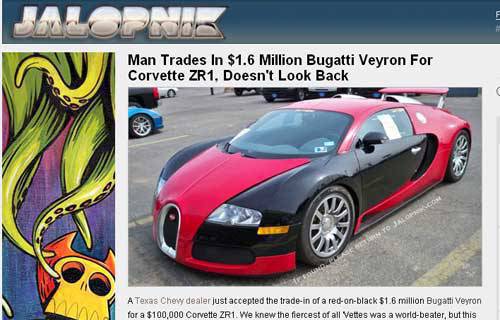 Owning a supercar isn't all that it's been hyped up to be as one particular owner in Texas traded in his Bugatti Veyron for something less powerful and more down to earth: a Corvette ZR1. Jalopnik.com said the owner traded in his 2008 red-on-black Bugatti Veyron for a brand-new Corvette ZR1 and some cash. Knowing how hard it would be to sell the Veyron, the dealership didn't accept the trade-in until someone agreed to buy the supercar.
Value during recalls
Consumer Reports annual auto issue has named the Honda Jazz and the Toyota Prius as two of the cars that provide the best value for buyers despite the current recalls that hound both carmakers. The Jazz and Prius both garnered a score of 2.08 to top the list, beating over 280 models in eight categories. With a score of 1 relating to the value of the average vehicle, the Prius and the Jazz's score means they are worth twice their value. "A low price doesn't always equal a good value," said Rik Paul, Consumer Reports' automotive editor. "Our best value list can help consumers choose a car that will give them the best bang for the buck." Other "best-value" cars in the Consumer Reports' list are the Honda Civic, Volkswagen's Golf TDI and Jetta TDI, Hyundai Elantra SE, Subaru Forester, and Toyota's Corolla, four-cylinder Camry, and the Camry Hybrid.
Continue reading below ↓
Recommended Videos
P32,000 limited edition Aston Martin Nike sneakers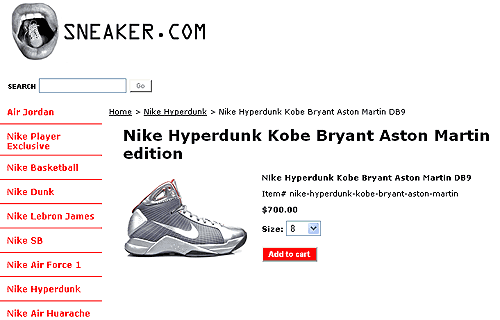 Is any sneaker worth $700? Nike thinks so, particularly if it's a Nike Hyperdunk Kobe Bryant Aston Martin edition. Nike teamed up with the British carmaker to come up with a sneaker that costs a hundred times that of the average Pinoy's daily minimum wage. For that amount, you'll get a Nike Hyperdunk that's not only been finished with premium leather on the uppers, it also has the Aston Martin logo on the tongue and Kobe Bryan's signature on a leather patch inside. Only 500 pairs will be sold starting May 1.
US F1 trouble
The fledgling US F1 team seems to be still grappling on stability ropes with barely a month to go before the 2010 Formula One season kicks off. Spanish sports magazine Marca.com said US F1 sports director Peter Windsor has admitted that the team might not skip just the first three races; it may end up quitting the 2010 season. Compounding US F1's troubles are numerous reports that the team's head for business development Brian Bonner has left the outfit, and its biggest investor, YouTube founder Chard Hurley, has been mulling to support another F1 team. This could only mean bad news for Jose Maria Lopez, the team's one and so far only driver, who reportedly signed for a $2-million contract.
Suzuki turns silver
Suzuki Philippines is celebrating its 25th year in the Philippines by strengthening its commitment to the country. Suzuki Philippines president Satoshi Uchida opened the company's anniversary celebration by enjoining employees to "improve your sales, improve your job, so we can make Suzuki No. 1 in the world." To mark Suzuki Philippines' long-term commitment to the country, it teamed up with Haribon Foundation for a tree-planting activity in Barangay Cuyambay, Tanay, Rizal. Suzuki Philippines is the only integrated automotive company in the country with its product line of both two- and four-wheel vehicles.