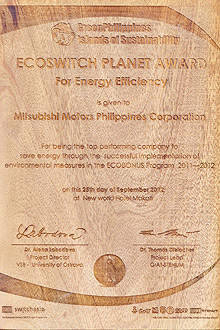 The Green Philippines Islands of Sustainability (GPIoS) Project has recognized Mitsubishi Motors Philippines Corporation's (MMPC) conservation efforts by giving the Japanese carmaker the EcoSwitch Planet Award for Energy Efficiency and the EcoSwitch Certification Award.
The GPIoS is one of the four Switch projects implemented in the Philippines by Switch Asia. Funded by the European Union, the program's goal is to generate economic profit "by simultaneously increasing resource efficiency and minimizing environmental impact among companies."
According to MMPC, its energy conservation efforts include reducing the heat-run time of its generators, upgrading its air compressors from local to central control, inspecting its air lines and repairing leaks, limiting air-conditioning temperature to within 24 to 26 degrees Celsius, turning off unnecessary lights and equipment during break periods or when not in use, and replacing fluorescent lights with LEDs. Its more environment-sensitive projects include decontaminating hazardous paint cans using recycled solvent, improving the solvent application method, and using returnable racks.
Continue reading below ↓
Recommended Videos
MMPC claims that using these programs helped to cut its production and maintenance costs and increase its economical and ecological efficiency.
"More green programs are being conceptualized as a demonstration of MMPC's sincere commitment to working on the preservation of the environment," MMPC said in a statement. "MMPC believes that effective management of the environment entails teamwork, envisioning cost-saving projects that would help its suppliers, dealers, and customers manage their own emissions, as it manages its own. As the company takes pride in its new endeavor, everyone is challenged to contribute to a greener future."