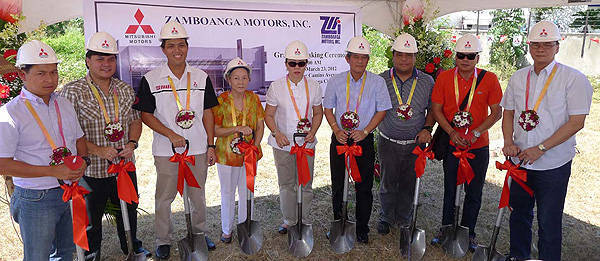 Mitsubishi Motors Philippines (MMPC), together with one of its dealers, Zamboanga Motors (ZMI), recently held a groundbreaking ceremony to mark the beginning of the construction of "a bigger and a more modern Mitsubishi Motors showroom and service center" in Zamboanga City.
To be built on a 5,320sq-m lot along Governor Carmins Avenue, the showroom can accommodate six vehicles on display simultaneously, while the service area has 19 work bays.
"Throughout the years, ZMI has shown its steadfast commitment toward its customers," said MMPC's senior vice president for marketing and treasury, Orlando Alvarez, Jr. "The upgrading of its facility to comply with world-class standards and to implement the global Mitsubishi visual identity is just one of the means to bring closer to its valued customers not only quality vehicles but also quality services. Zamboanga is a city with great economic potential given that it is Western Mindanao's center of trade and commerce. We believe that the modernization and expansion of this showroom and service center will help us achieve our business targets and continue our growth."
ZMI and Mitsubishi have reportedly been doing business for more than four decades, as it "has been with the brand since its establishment in 1963."
ZMI's new dealership is expected to be fully operational by December 2012.