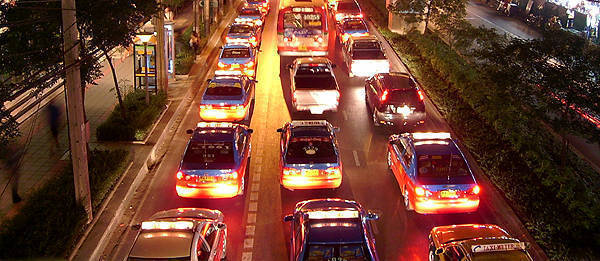 The Metropolitan Manila Development Authority (MMDA) has proposed the reimplementation of the odd-even traffic reduction scheme for the entire stretch of EDSA from November 15 to January 15, 2011.
If approved by the Metro Manila Council, which is composed of the 17 mayors in the National Capital Region, vehicles with license plates ending in 1, 3, 5, 7 and 9 will not be allowed on EDSA on Mondays, Wednesdays and Fridays. Vehicles with license plates ending in 2, 4, 6, 8 and 0 will be banned on Tuesdays, Thursdays and Saturdays. The MMDA wants to implement the odd-even scheme from 7 a.m. to 7 p.m.
The new proposal for traffic reduction will complement the current number-coding scheme, which prohibits vehicles from traversing Metro Manila's major roads for one day every week from 7 a.m. to 7 p.m., depending on the last digit of a car's license plate.
The MMDA said motorists may enjoy these benefits with the implementation of the odd-even scheme:

- reduced travel time and vehicle operating cost as the average speed along EDSA during its peak hours could increase from 30.75kph to as much as 51.29kph;
- increased productivity as a 2009 World Bank report that estimated that traffic along EDSA and other major thoroughfares in Metro Manila cost the economy at least P277 million daily (around $2 billion a year) in terms of lost man-hours;
Continue reading below ↓
Recommended Videos
- improvement in physical and mental health as less time spent in traffic means less exposure to harmful emissions and stress; and
- less carbon emission and less air pollution as the improved traffic flow means cars will run more efficiently and thus lessen its harmful emissions.
The MMDA will present the odd-even scheme proposal to the MMC on October 15.
What do you think of this old-but-new scheme the MMDA plans to implement? You know what to do with the comment box.