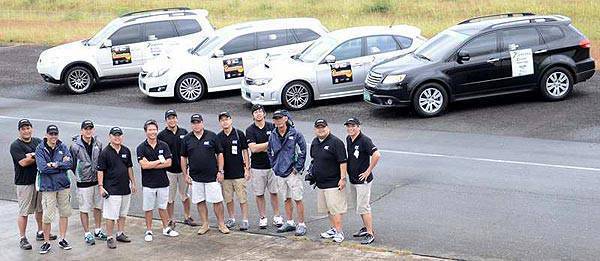 Motor Image, the authorized distributor of Subaru vehicles in the country, and the Subaru Society of the Philippines, bested 15 other manufacturer- and distributor-backed teams in the 2011 Sunshine TV Auto Rally Corporate Challenge.
The Subaru Society-Motor Image Pilipinas team fielded four cars driven and navigated by selected members of the car club. At the end of the day, two of the entries finished on top while the other two vehicles took the 10th and 25th place--enough for the group to bag the manufacturer/distributor's title.
Also instrumental to the team's win was its reaching five of the 12 checkpoints on time. The STV Auto Rally Corporate Challenge, after all, is about getting to a destination "on-time, all the time."
"This victory gives everyone in the motoring industry a clear picture of who we are as a club and as Subaru owners as well," said Elbert Cuenca, one of the founders of the Subaru Society. Cuenca won last year with teammate Raul Ylanan but they only managed to finish at 10th place this year with navigator Niño Pasamonte.
ADVERTISEMENT - CONTINUE READING BELOW ↓
Overall Team Champion
Champion - Subaru
First runner-up - Kia
Second runner-up - Mercedes-Benz
Third runner-up - Volvo

Overall Individual Ranking
First - Eric Valera, Maochi Aurelio, Jic Valera (Subaru No. 47)
Second place - Raffy David, Juny Binamira, Chez Goyingyok (Subaru No. 45)
Third place - Steven Acayan, Shariffa Dizon, Lester Dizon (Kia No. 28)
Fourth place - Carla Lagman, Rani Ortega, Igor Mella (Volvo No. 56)

Kamana Special Stage
First place - Gaby dela Merced, Renan Morales, Ivan Isada (Toyota No. 48)
Second place - Monch Gupit, Carlo Villanueva, Jan Gomez (Subaru No. 46)
Third place - JC Canlas, AJ Uy, Cid German (Toyota No. 50)
Fourth place - Rico David, Joen Cruz, Mervin Gundran (Mitsubishi No. 40)

Airport Special Stage
First place - Vince Pornelos, Iñigo Roces, JC Pullido (Mercedes-Benz No. 34) and Danby Yaptinchay, Mon Dimapilis and Alex Lao (Mitsubishi No. 38)
Second place - Edwin Reyes, Jerome Apostol, Galileo Santana (BMW No. 5)
Third place - Menchie Ramirez, Joy Villaflor, Jong Benitez (Audi No. 4)

Checkpoint Winners
Checkpoint A - Mike Reyes, Art Guevarra, Albert Narciso (Hyundai No. 19) and Mandy Eduque, Jun Espino, Mark Desales (Lexus No. 30)
Checkpoint B - Eric Valera, Maochi Aurelio, Jic Valera (Subaru No. 47)
Checkpoint C - Elbert Cuenca, Raul Ylanan, Niño Pasamonte (Subaru No. 44)
Checkpoint D - Mike Potenciano, Lindy Pellicer and Steven Yu (Toyota No. 49)
Checkpoint E - Mandy Eduque, Jun Espino, Mark Desales (Lexus No. 30) and Eric Valera, Maochi Aurelio, Jic Valera (Subaru No. 47)
Checkpoint F - Neil Pagulayan, Barbara Lorenzo, Pauline Gonzales (BMW No. 7)
Checkpoint 1 - Mandy Eduque, Jun Espino, Mark Desales (Lexus No. 30)
Checkpoint 2 - Mandy Eduque, Jun Espino, Mark Desales (Lexus No. 30) and Mike Potenciano, Lindy Pellicer and Steven Yu (Toyota No. 49)
Checkpoint 3 - Mandy Eduque, Jun Espino, Mark Desales (Lexus No. 30) and Eric Valera, Maochi Aurelio, Jic Valera (Subaru No. 47) and Mike Potenciano, Lindy Pellicer and Steven Yu (Toyota No. 49)
Checkpoint 4 - Joel Lago, Ray Reyes, Sandy Adan (Ford/Mazda No. 14) and Mandy Eduque, Jun Espino, Mark Desales (Lexus No. 30) and Mike Potenciano, Lindy Pellicer and Steven Yu (Toyota No. 49)
Checkpoint 5 - Mandy Eduque, Jun Espino, Mark Desales (Lexus No. 30)
Checkpoint 6 - Eric Valera, Maochi Aurelio, Jic Valera (Subaru No. 47) and Gaby dela Merced, Renan Morales, Ivan Isada (Toyota No. 48) and Froilan Valencia, Gerald Lauron, Shirley Jutie (Volvo No. 57)
ADVERTISEMENT - CONTINUE READING BELOW ↓
Recommended Videos
Photo from Arnold Cruz's Facebook page