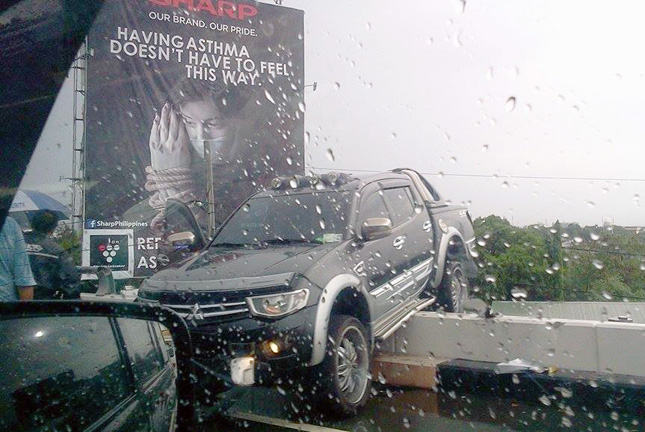 As you know, a Mitsubishi Strada very nearly fell off the Skyway today. If you haven't read the news, you can check it out here. Anyway, the photos in our previous report were taken from the ground. Thus, only the underside of the pickup's cargo bed was visible.
But then people traveling on the Skyway at the time of the accident also sent us pictures snapped from the elevated tollway itself. One of the photos clearly shows a missing right front tire, indicating that it got ripped off either from an extremely hard maneuver or due to a strong impact. Of course, we're not discounting the possibility that the tire itself exploded and caused the driver to lose control.
In any case, the vehicle's occupant (or occupants) was fortunate that it was the rear part of the pickup that breached the Skyway's railing, as this was the significantly lighter half of the vehicle. Imagine if it had been the front half of the Strada that cleared the barrier. Still, the driver must have had the scare of his life knowing that the rear portion of the pickup was already hanging in the air.
Check out the photos below.
Photos from Ilaw Cruz, Frank Camañag, Ej Namuco, Tachiro Iwanaga, Jana Mel Bravo Pineda, Aldo Infante, Jerome Rico and Benjo Santiago